Arab female bodybuilders bust cultural stereotypes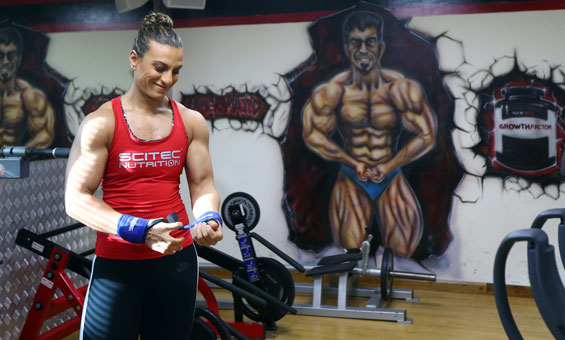 Flexing her muscles in defiance of the Gulf's conservative cultural stereotypes, bodybuilder Haifa Musawi has lost all hope of pumping iron for Bahrain so now is looking elsewhere for recognition.
The 32-year-old began working out a decade ago after finding a personal trainer to help her overcome obesity - a widespread problem in the oil-rich region.
"I had a problem with obesity and I used to like bodybuilding," says Musawi, a square-jawed woman with curly hair pulled back in a tight ponytail.
As a young girl, she would seek out publications with articles and pictures about bodybuilding.
"At that age, I didn't have the experience or knowhow to become a bodybuilder," she recalls. "It wasn't easy... bodybuilding for women in our society is rare."
But "I was at the gym every day and to me it was more important than anything else".
Musawi's family encouraged her efforts to shed weight and despite worrying about the supplements she took as part of her training programme, she said "they finally accepted" what she was doing.
Ten years on, Musawi has several certificates from international fitness and bodybuilding associations and has been working as a weights specialist in Dubai, where she trains both men and women.
In June, she came sixth in the physique category of the International Natural Bodybuilding Association championships, a drug-free competition held for the first time in Dubai.
Musawi and a Jordanian woman were the only Arab female bodybuilders at the event.
She is now seeking a pro-card so she can take part in professional competitions around the world and join the International Federation of Bodybuilding and Fitness.
But Musawi cannot represent Bahrain, where there is no national bodybuilding team to represent for women, let alone competitions to enter.
In October she plans to travel to Portugal to obtain residency and represent the European country, with the help of her Portuguese trainer Andreia Sousa.
"This is my dream and I want to fulfil it," says Musawi. "If Portugal offers me my dream, then why not? But I hope to represent Bahrain" one day.

'Changed my life'
Sousa, who has been Musawi's trainer for more than a year, says that "as an athlete I can understand the passion" and that it is "worthwhile to go on stage".
"I think Haifa has a lot of talent and... possibilities," says Sousa, who oversees Musawi's rigorous fitness regime and diet, and acts as her manager.
While more and more Arab women are developing interest in the sport and some come to her, mainly seeking weight-loss training, many are still burdened by "social restrictions", says Musawi.
She says that many of her male clients also find her "strange" at first but they have slowly become more accepting.
"I have proved it to them."
Lifting weights at the same gym is Shaza Jamil, a British-born girl of Yemeni-Pakistani origin.
"Men usually ask me: 'Why are you building muscles? You're a girl. Why are you ruining your body?' But I am not. I love my body and this is why I do lifting," she says.
"Society has put in their heads that a woman should not have muscles."
A relative newcomer, Jamil has already won a silver medal in the bikini category of a British competition after only a year of lifting weights.
Like Musawi, she took to the sport after struggling with her weight and shape.
Her mother had first rejected the idea of her going on stage as a bodybuilder.
"We had drama at home but when she attended the competition and saw how happy I was and that I had won," she began to accept it, says Jamil.
"It is true we wear bikinis on stage but we do nothing wrong. We just show off our bodies that we worked so hard on," the brunette says, defending the sport which she says has "changed my life".
Pics: AFP
Follow Emirates 24|7 on Google News.