At the "Sucker Punch" premiere, the show must go on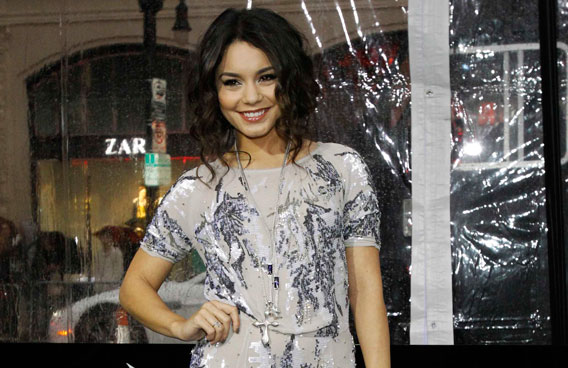 Despite torrential rain outside of Grauman's Chinese Theater the "Sucker Punch" world premiere went on, albeit under a huge plastic tent. That made it tough for the usual film fans who always gather across Hollywood Boulevard when premieres happen, hoping to catch a glimpse of their favorite actors and actresses. But even in the deluge, a few stalwarts were standing in the downpour, calling out to their favorites in vain.
For the film's cadre of stars, the five fresh beauties including Emily Browning, Vanessa Hudgens, Jena Malone, Abbie Cornish and Jamie Chung, rushed from their limos directly to the red carpet, in order to keep their ball gowns dry. They joined director Zack Snyder and his wife Deborah, who produced the film.
"It's a family business," the director told reporters earlier at a press conference, where his pack of pretties agreed that the process of making "Sucker Punch" turned them into a sisterhood.
"We trained together in martial arts techniques for three months," explained Browning, who is the leader of the flick's pack.
"I woke up the second morning of the training," said Hudgens, who is best known as the singing and dancing star of the "High School Musical" hit movies, "and I was almost unable to walk! I've never known that kind of pain."
Happily, no one seemed to be feeling any pain Wednesday night as they greeted the other stars of "Sucker Punch" that were on hand, including Carla Gugino, Jon Hamm, Scott Glenn and Oscar Isaac. They, and other familiar Hollywood faces like Diane Lane, Malin Akerman, Joe Jonas, Emma Roberts, Tommy Davidson and Jennifer Westfeldt watched Synder's over-the-top fantasy unspool, then headed further down the boulevard to the Geisha House for a nibble of sushi, sashimi and short ribs.
DJ Bizzy kept the crowd dancing to tunes old and new, including Emily Browning's version of "Sweet Dreams" from the soundtrack of the movie.
"Zack asked me to sing," the actress recalled, "and I just couldn't say no!"
Follow Emirates 24|7 on Google News.