Cristiano (vain?) Ronaldo gets $22,500 wax statue of himself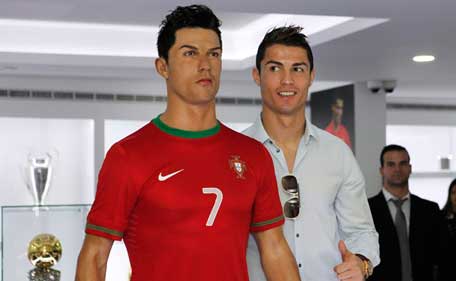 You must have heard/read/seen the life size wax statue of Real Madrid superstar Cristiano Ronaldo at the CR7 museum dedicated to his professional career? It is the same one the footballer regularly sends a stylist to make sure that the statue's hair is as perfectly coiffed as his own.
Apparently just one wax model in the museum was not enough. Ronaldo is so impressed with his life size statue that he has commissioned an identical one for his home.
Reuters
The Sun has reported that the footballer is spending $22,500 to make the second figure.
It is quite apparent the star fancies himself on and off field - take a look at his Instagram page to figure out what I mean.
He is definitely good looking; a rather handsome fellow with chiseled face, perfectly edged jawline, high cheekbone and deep set of eyes.
AFP/Getty
So here's how he makes sure posterity remembers his good looks.
The Ballon d'Or winner hired the original sculptor Michael Wade to create a fresh version for his mansion.
Thankfully Wade already had the mould used to sculpt him in 2013, so this copy was a complete duplicate.
But the star footballer wanted to keep it up to date so he sent them a football kit and his latest boots.
And since the 'hair' is a very touchy subject for the stylish player, the team of sculptor left it alone.
They put all the hair in, one at a time and then, in Madrid, Cristiano's hairdresser came along to cut it (remember the perfect coiffed look?).
He posted a picture of the unfinished sculpture on Instagram as his hair stylist worked on it and captioned the picture: "Cortando o cabelo ajajjajaajja" (Cutting the hair).
Having a statue in a museum is alright but commissioning a $22,500 one for home and getting a professional hairdresser to cut its hair is another.
Cristiano has just upped the degree of vanity.
Follow Emirates 24|7 on Google News.