Fasten your seatbelts: Chanel flies couture sky-high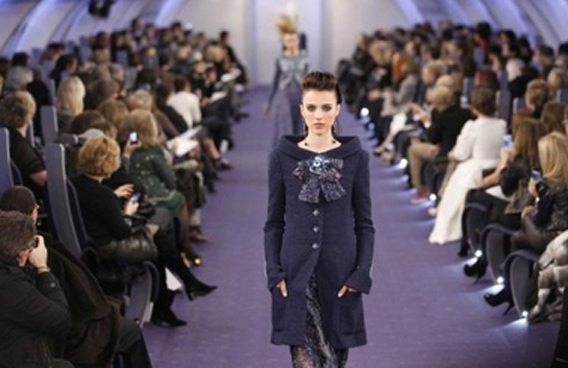 Chanel flew the fashion crowd sky-high on Tuesday, conjuring up a life-sized plane as the runway for an all-blue spring collection as it headlined day two of the Paris haute couture shows.

Stewards walked the length of the central aisle, offering champagne to Chanel's guests as they took their seats in the model aircraft, purpose-built inside the Grand Palais exhibition hall.

"After the red carpet, the blue carpet," the house's silver-haired designer Karl Lagerfeld, in trademark black suit and shades, quipped to reporters.

"I love the plane," said the globe-trotting couturier. "There's nothing I find more relaxing. Your neighbours are stuck to their screens, there are no phones - it's blissfully peaceful."

Dim-lit, with "Exit" signs, images of fluffy clouds overhead and a cockpit at one end, the aircraft was carpeted with a Chanel monogram, and its seats swivelled round to offer a full view of the runway.

"Pretty cool, right!" smiled the actress Diane Kruger as she took her seat.

Lagerfeld used no fewer than 154 shades of blue for a look defined by wide, soft chimney collars, puffed sleeves, linear silhouettes and low waistlines.

"Blue is a palette all in itself," he said, "the colour of air, of the sky, or the eyes of a little cat" - like the one he was recently given as a gift.

Chanel's first model wore a sky blue short-sleeved dress, cut just above the knee with hands thrust into deep pockets.

Her hair was pulled into a huge backcombed crest shooting skyward, and her only jewellery was long sparking pendant earrings.

A succession of day suits followed with subtle sequin embroidery, in tones of navy, royal or pale blue - and glittering heels to match each exact shade.

Come evening time, and with each dress, the fabrics grew more intriguing and the glittering embroidery richer - with intricate patterns sometimes repeated just below the hem on the model's tights.

Jewel-encrusted dresses rustled as the last few models walked, and for the finale there was a wedding dress with a twist: with fully embroidered bodice, and ice-blue train stopping at the knee.

Later at Giorgio Armani, the first cheers went to the US actress Jessica Chastain, as she found out live that she was nominated for an Oscar as best supporting actress for "The Help."

Did Chastain spot something to wear up the red carpet next month?

Quite possibly - if she is planning to go in green: the couture collection sent out by Armani Prive feted vivid greens in all their glory, from aniseed to apple, weaving in a subtle reptilian-theme.

Cupped petals of layered silk, like the soft folds of a lily, defined the achingly graceful look unveiled by Stephane Rolland.

The French designer's latest hymn to the female form, all in ivory and black, with gold accents and flashes of red and lime green, earned him warm applause during the show, and a rock star crush of well-wishers backstage afterwards.

Cut from creamy silk crepe or chiffon, the pure-lined, floor-length dresses skimmed the figure like petals curling around a stem, many with billowing drapes and capes at the back.

Organic, sinuous flounces made from dozens of embroidered layers of gazar curled out at the hip, or down the side of dresses.

Smooth gold tubes circled the waistline or neck, gold plates punctuated draped dresses, and one black gown had golden half moons embroidered in a pattern all down one side.

The run of show-stoppers included an hourglass-shaped gown in white silk jersey, tight down to the knee, then spreading into a compact, fluffy train of red ostrich feathers.

"It feels like walking on water," the young model told AFP as she slipped out of the dress backstage.

Earlier the Paris-based Brazilian Gustavo Lins, took the fashion crowd to Spain via Japan, with a flamenco-inspired collection that drew heavily on the designer's lifelong passion for the kimono.

Lins wove his own ode to womanhood, imagining a "grave, sensual gypsy," clad in drapes both sober and sumptuous.

Eroticism, defined by Lins, is based on "three golden rules: the nude back, bared ankle and hugging waistline."

Onlookers sucked in their breath with each new apparition - which made generous use of the three cardinal rules - clapping warmly at the finale.

Deceptively simple scarf dresses were as if wrapped around the body, one in blood red with a simple band of red leather running over one shoulder and baring the other.

Others were all artful drapes and twists, leaving guests craning their necks for a better, longer view of the magic.
Follow Emirates 24|7 on Google News.