Have a Golden Camel Meat Burger, Golden Cappuccino in UAE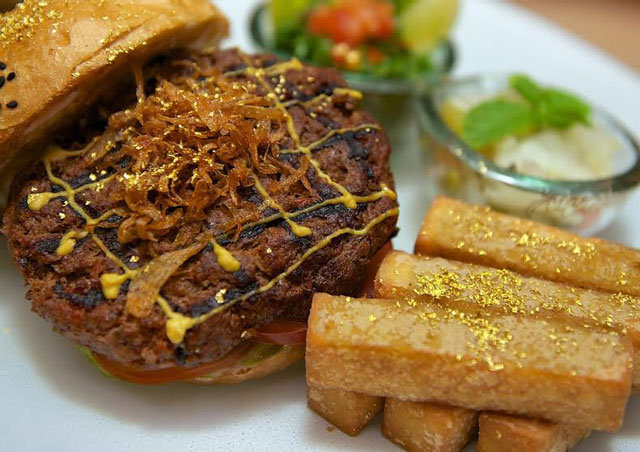 A camel meat burger sprinkled with 24k gold or a cappuccino decorated with golden dust are unique luxury items on the menu of luxury cafés in the UAE.
Abu Dhabi's Emirates Palace is the first luxury hotel in the region to introduce a gold coin dispensing ATM machine, Gold to Go, and its Le Café Restaurant now has gold-flavored grub to cater to tourists from around the world.
The gold-sprinkled camel burger has initiated a lively social media discussion because Abu Dhabi is, perhaps, the only place where the golden Arabian camel burger is served.
On the other hand, discerning clients can find cappuccino sprinkled with gold dust at a restaurant in Dubai's Burj Al Arab, with some customers calling is "awesome" and a "bit of luxury".
Edible gold and silver is used for making special luxurious dishes, drinks and beverages for special occasions, but the golden burger is available every day in the UAE capital.
Travel enthusiasts and foodies from around the world have been attracted to the signature Camel Burger, which comes with 24k gold dust decoration. The signature Camel burger, prized Dh110 plus taxes ($30), has been served in the restaurant for three years now.
"It is a popular Arabic delicacy in our restaurant. The signature Camel Burger was created and introduced in 2012 after several months of culinary brain-storming, endless tasting-sessions and a hotly-contested qualifying heat by competing teams from the hotel's restaurants," says Stefani Anash from the Emirates Palace Hotel. It weights nearly 200 grams including the gold dust of a few grams.
"In celebration of locally produced products, a total of 20 options were narrowed down to five, from which the victorious burger was announced. The signature Camel Burger is now a popular item on the Le Cafe menu, and a must-try item at Emirates Palace," she added.
Travel writers and trip advisors are vocal about the unique delicacy.
Golden Cappuccino is available in Emirates Palace as well as Burj Al Arab, Dubai's 7-star luxury hotel. Edible gold flake, dust or leaf is available in the market to make edible creations worth their weight in gold.
"Sprinkled in real 24 carat gold flakes, this is the epitome of indulgence at the Palace. At Emirates Palace, we use only the finest ingredients to create our signature gold cappuccino," the hotel representative says.
"The Palace Cappuccino is served throughout the day in both Caviar Bar and Le Café from 7am to 12.30 am. Dh60 excluding 10 per cent service charge and 6 per cent tourism fee."
Follow Emirates 24|7 on Google News.