World's largest caviar factory opens... in desert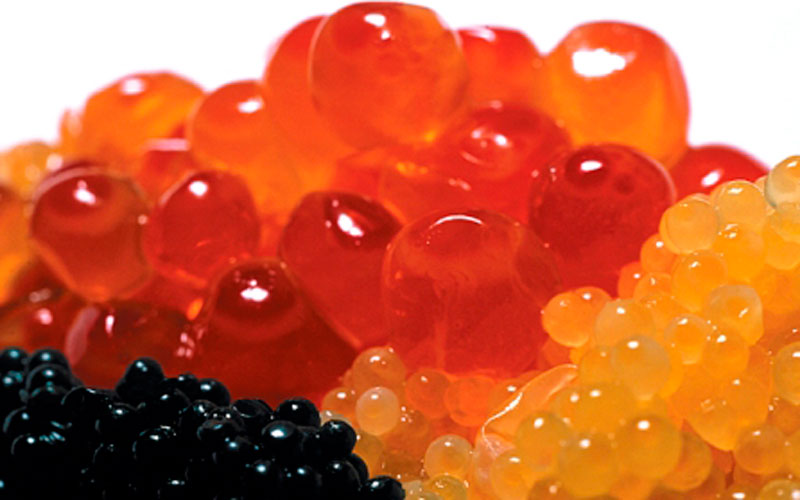 The Middle East's first and largest caviar farm of its kind today unveiled future plans and a new brand identity for The Royal Caviar Company. With its first commercial batch of caviar in 2012, the factory will become the world's largest and most technologically advanced producer of high quality sustainably sourced caviar, playing a key role in addressing the world's growing demand for top quality caviar.
Developed by Bin Salem Holding, in co-operation with United Food Technologies AG, The Royal Caviar Company factory currently contains approximately 18 tonnes of sturgeon with a further 124 tonnes scheduled for delivery this year. The first production of caviar and sturgeon fillets is scheduled for late in 2011, with caviar commercially available in the UAE in the second half of 2012.
Sturgeon are considered endangered species by the Convention on International Trade in Endangered Species (Cites). Consequently, The Royal Caviar Company has an essential role to play in ensuring the regular availability of high quality caviar.
At the press conference today in Abu Dhabi, The Royal Caviar Company also announced the impending delivery of around 120,000 sturgeon eggs, which will be the UAE's first homegrown sturgeon, and the gift of 20 rare albino sturgeons to the factory by United Food Technologies AG.
Ahmad Al Dhaheri, CEO and Vice Chairman of Bin Salem, announced; "Bin Salem has been planning and developing this business for several years, and it is a tribute to every stakeholder and partner that we can announce our plans now that the factory is complete. Abu Dhabi is ideally placed to become one of the world's most successful producers of caviar, as we are convenient to the fastest growing markets in the Middle East and Asia, and I look forward to The Royal Caviar Company being the caviar of choice across the globe." Caviar has been considered a delicacy for centuries, with demand for high quality caviar increasing year after year. With the factory in Abu Dhabi reaching full capacity within the next four years, The Royal Caviar Company will satisfy approximately 10% of the global supply/demand imbalance, and will become the largest caviar factory in the world offering a supply of caviar on a reliable monthly basis.
In addition to high quality caviar, The Royal Caviar Company will be a high volume producer of sturgeon fillets which are also a delicacy in many countries.
Robert Harper, Group Commercial Director, Bin Salem, explained; "Abu Dhabi is an ideal location for distribution to the world's growing markets for high quality caviar and sturgeon fillets. In fact in the UAE alone, demand is around 14 tonnes per year. Cutting edge recirculating technology and digital process control ensures that the sturgeon enjoy an ideal habitat with carefully controlled PH levels, oxygen concentration and regular feeding. Our sturgeon will produce an extremely high quality of caviar and fillets for the local and international markets for many years to come."
Talking about the new brand identity and official name for the caviar factory and operations, Harper continued: "The branding of The Royal Caviar Company is evocative of the regal nature and high quality of product we expect to deliver. The branding is simple, yet striking and classic, reflecting both the caviar egg and the Arabic core of the brand, so it is a perfect way to launch the values of the company. We will soon develop a consumer and retail brand identity, and we look forward to announcing details of that brand later this year."
The unusual idea for a caviar factory in Abu Dhabi was developed several years ago by a team of passionate visionaries at Bin Salem who recognized an opportunity for an attractive financial return while relieving the global pressure on stocks of endangered sturgeon.
Michel Nassour, Chief Financial Officer at Bin Salem, explained: "The Bin Salem team has searched the globe for the best partners, and we found them in United Food Technologies AG, and Abu Dhabi Commercial Bank, ensuring our vision was matched by the world's top expertise. ADCB was with us every step of the way, helping us to put the dreams of our team into sharp financial focus."
At approximately 50,000 m2, the factory is the largest aquaculture recirculating facility in the world in terms of size and capacity, and has been developed by United Food Technologies AG, world experts in water recirculating technology and equipment, who brought a variety of patent pending water purification, caviar production and digital monitoring systems to Abu Dhabi.
Christoph Hartung, Chairman, United Food Technologies, commented; "We have worked closely with Bin Salem over the past three years to develop a factory perfectly suited to the environment here. The Royal Caviar Company will be the largest caviar production facility in the world to move to reliable monthly production, maximising the productivity of the factory itself.
"It has been a long journey working hand in hand with Bin Salem, but we are excited to be here in Abu Dhabi to see a busy factory with fish arriving each week, and we look forward to the first harvest of Abu Dhabi caviar."
Other valued partners and service suppliers of The Royal Caviar Company include Abu Dhabi Commercial Bank, Etihad Crystal Cargo, Salem Freight, Maersk Line, AquaLife, who provide special containers to ensure utmost levels of safety for the sturgeon during their sea transport, and AquaOrbis.
Follow Emirates 24|7 on Google News.