Woes of Indian family: rape threats, suicide attempts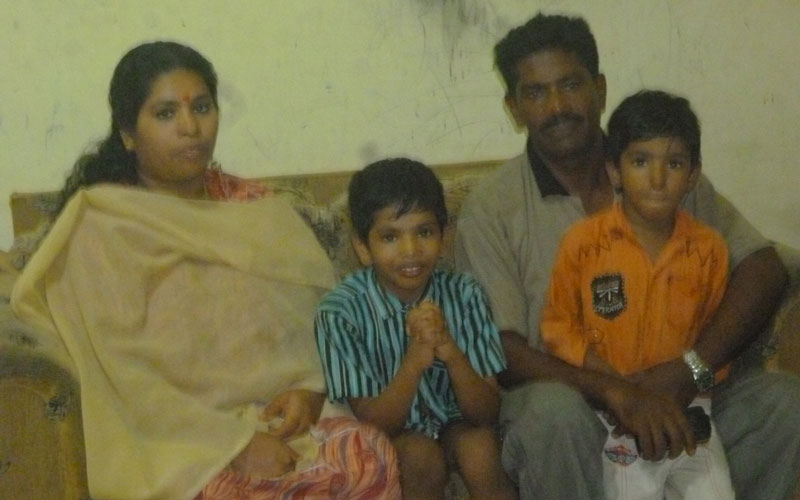 An Indian family has been living in dire poverty in Ajman for the past few months. Deep in debt since their business floundered, the woman attempted suicide twice and even underwent psychiatric treatment, while the two children have stopped attending school as they failed to pay fee.
Thanks to the efforts of a Youth India volunteer, the plight of Rajan Koippallil N (47), wife Ashamol Rajan (33), Soorya Raj (7) and Kiran Raj (5) is now highlighted in the media and the landlord has restored electricity.
Salim Noor, social volunteer, said Ashamol became violent and regularly beat up children. She was stopped twice from jumping out of the window by her husband. She was admitted to Al Amal Psychiatric Hospital Jumeriah and is now believed to be stable.
Apparently, severe depression and having no one to share her woes drove her to the edge, he added.
Rajan was running an air-conditioning maintenance company in Al Mashreq, Dubai, since 1994. However, recently, he claims the sponsor changed the name of his firm to Al Hoboob Building Maintenance and the management was taken over by the sponsor. As the bank account was in the sponsor's name, Rajan cannot withdraw money either. As a result workers' pay could not be given and they inturn stopped work.
"That's when my husband started working illegally. He brought home about Dh100. But that was not sufficient. Children stopped going to school because we could not pay school fee. We cannot not even buy a phone card. We are at the mercy of the building watchman," said Ashamol.
Added to this, the family also had to face threats from money lenders and others.
"My husband's business partner started coming home threatening to rape me and shoot the family because his immigration card is blocked for some reason," Ashamol added.
The family could not travel home either because their visa expired and they do not have the amount to renew the same. Ashamol's passport is pledged with a money lender from whom Rajan borrowed Dh12,000.
The company licence is in Ashamol's name. This has added to their woes. About Dh40,000 fines have been acuumulated on the company licence so far. His efforts to bring money from home to clear the fines also failed.
Rajan aplpied for a fee waiver but immigration authorirties have rejected the plea.
The only relief the family has had so far is the pending school fee of children have been written off, after the Indian Association intervened. However, the kids have not resumed school yet because their visas have expired.
Follow Emirates 24|7 on Google News.