Miss America 2016: Miss Georgia, Betty Cantrell crowned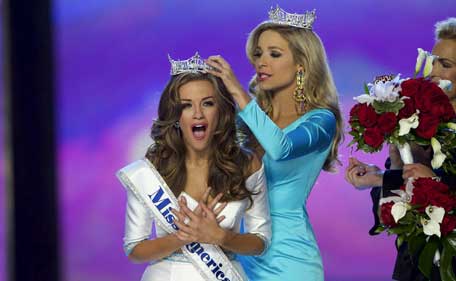 Betty Cantrell, representing the southern US state of Georgia, was crowned Miss America 2016 late Sunday.
Cantrell, overcome by emotion, received the crown from last year's winner, Kira Kazantsev of New York, then waved to the tune of the pageant's theme song "There she is, Miss America."
The classic tune had been on hiatus for the past five years due to legal wrangling with song author's estate.
Miss Georgia Betty Cantrell (front L) reacts after being crowned Miss America at Boardwalk Hall, in Atlantic City, New Jersey, September 13, 2015. Reuters
"I'm so excited about this opportunity!" Cantrell gushed in a video posted on her Twitter account after event.
She was especially excited about being the first Miss Georgia to win the nationally televised pageant since 1958.
In the final round of questions, however, Cantrell fumbled an answer about the 'deflategate' scandal surrounding Patriots football star Tom Brady.
"I thought I blew my state question, I didn't know what he asked me," Cantrell said in the video.
Miss Georgia Betty Cantrell (L) reacts after being named Miss America. Reuters
Meg McGuffin, Miss Alabama, had a clear response when asked to explain the popularity of brash Republican businessman and presidential hopeful Donald Trump.
Trump "is an entertainer, and... the Republican Party should be absolutely terrified" of the attention that he's getting, McGuffin said.
Trump's organization runs a separate beauty pageant, Miss USA, that is linked to Miss Universe, an event the billionaire businessman fully owns.
The Miss America Organization is a non-profit corporation not affiliated with the Trump pageants.
McGuffin was fourth runner-up in the contest.
Miss Georgia Betty Cantrell waves after being crowned Miss America 2016 at the 2016 Miss America pageant, Sunday, Sept. 13, 2015, in Atlantic City, N.J. (AP)
Vanessa Williams returns
The panel of judges this year was led by Miss America 1984 Vanessa Williams, the first African American to win the contest.
Williams was returning for the first time since she was stripped of her crown following a nude picture scandal.
She has had a successful career as an actress and singer.
AP
On Sunday, Miss America CEO Sam Haskell opened the event, held in Atlantic City, New Jersey, by publicly apologizing to Williams.
"On behalf of today's organization, I want to apologize... for anything that was said or done that made you feel any less the Miss America you are and the Miss America you always will be," he said.
Williams, now 52, kissed Haskell on the cheek and said the apology was "unexpected but so beautiful."
AP
Other judges on the panel included singer and actress Zendaya, Taya Kyle -- the widow of "American Sniper" US Navy Seal Chris Kyle -- and country music singer Brett Eldredge.
Cantrell won $50,000 in scholarship money, while contest runner-up, Mississippi's Hannah Roberts, got $25,000.
Contestants represented all 50 US states as well as Puerto Rico and the District of Columbia home to the US capital Washington.
Follow Emirates 24|7 on Google News.