Panthers, orchids inspire Tisci's Givenchy line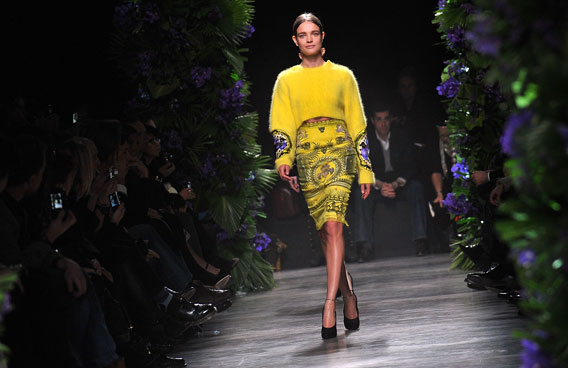 If the glossy invitation printed with a black panther on one side and orchids on the other didn't give away the theme of Givenchy's fall-winter 2011-12 ready-to-wear collection Sunday, the overpowering odour of hothouse flowers that filled the show's venue and the menacing growl on the soundtrack that made some editors almost jump out of their skin should have done the trick.
Sleek black panthers, some wearing gold chains in guise of collars, growled out from the hemlines of satin pencil skirts and luxe sweatshirts, which were also sprinkled, fleur de lis-style, with little purple orchids or embossed with flower wreaths.
It was the lady's version of the snarling rottweiler-covered menswear collection designer Riccardo Tisci fielded in January, from the sweatshirts to the leather lettermen jackets and right down to the oversized fur-covered glasses, which appeared on both runways.
Tisci's respect for streetwear and his ability to inject styles plucked off the streets of Paris, Tokyo, Cairo and Rio into the often rarified world of high fashion has help make him among the edgiest and most critically acclaimed designers working today.
The rumor mill has it he's the top contender to replace fired Dior designer John Galliano at the luxury giant.
Beyond the constant dialectic between streetwear and ladylike fineries - the sweatshirts and pencil skirts were worn together - the collection was also playing with opacity and transparency.
Ultra short, flippy skirts in fur or black satin were attached to what looked like sheer, knee-length, almost hobblingly tight pencil skirts. Abbreviated A-line skirts had similarly shaped but much longer translucent underskirts, through which the models' opaque thigh-high stockings showed.
Follow Emirates 24|7 on Google News.