Ras Al Khaimah's New Zipline declared World Record Breaker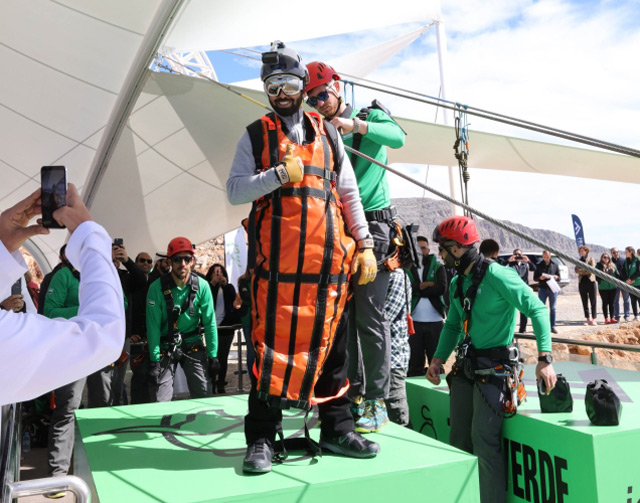 Ras Al Khaimah has achieved a Guinness World Records title with its latest adventure tourism product – 'Jebel Jais Flight: The World's Longest Zipline'.
The official certification was handed over today to H.H. Sheikh Saud bin Saqr Al Qasimi, Supreme Council Member and Ruler of Ras Al Khaimah, by Hoda Khachab, the official adjudicator from Guinness World Records.
H.H. Sheikh Ahmad bin Saud bin Saqr Al Qasimi was the first to trial the new zipline this morning, following the official certification by Guinness World Records.
"This is a great achievement for Ras al-Khaimah's international tourism ambitions," said Haitham Mattar, CEO of Ras al-Khaimah Tourism Development Authority. "We are now receiving our largest-ever number of visitor arrivals and are confident that Jebel Jais Flight: the world's longest zipline, will earn the UAE's emirate of Ras al-Khaimah considerable recognition on the local, regional and global stage and propel the destination into the major leagues of global adventure tourism. The Jebel Jais Flight will become Ras al-Khaimah's flagship tourism product and will cement Jebel Jais as the adventure tourism hub of the Middle East. We are expecting to see an increasing number of adventure tourists coming from across the globe to try this bucket list experience."
The world's longest zipline, measuring 2.83 kilometers - the equivalent to over 28 soccer fields, and spanning the chasm of Jebel Jais, the UAE's largest mountain peak at over 1,680 metres above sea level, opened to the public on February 1st, and is expected to achieve a strong following among thrill seekers and adrenaline junkies from across the world, who are interested in extreme adventure activities.
The Ras al-Khaimah zipline is being operated by Toroverde Ras Al Khaimah, the world's most experienced zipline managers.
"Toro Verde brings to Ras al-Khaimah immense zipline management experience earned through previous projects in Central and South America, including Toroverde Puerto Rico – the 'Monster' which, at 2.2 km previously held the zipline record now claimed by this ambitious emirate," said Ricardo Lizano, COO of Toro Verde.
Delivery of the zipline, which features a steel cable weighing more than six tonnes and is suspended 1,680 metres above sea level, has been in the planning phase for over a year. The process involved extensive feasibility studies, master-planning, comprehensive surveys, soil tests and construction simulations. Maintaining sustainable environmental practices within all construction acts, strong anchor holes were drilled into the rugged Hajar Mountains that alone took over six months.
"It actually comprises two main zipline cables, allowing friends and family members to experience and race together, adding to the fun and competitiveness of the facility. Zipline pilots will experience a flight like never before while being secure and safe. While the time and speed they complete the flight in is dependent on weight and weather conditions, the whole experience is expected to last around two to three minutes, with top speeds reaching between 120 and 150km per hour. We anticipate the attraction accommodating a rider every five minutes on the two zip lines, equating to approximately 200 people per day, and around 100,000 per year," explained Jorge Jorge, CEO of Toro Verde RAK.
Talal Omar, Country Manager for Guinness World Records MENA, said, "We have witnessed countless achievements in the Middle East, and as the global authority on record-breaking we are always proud to be a part of such great feats every day. Today's event highlights an extraordinary attraction that now puts Ras al-Khaimah with UAE as a global primary destination."
Follow Emirates 24|7 on Google News.