Super-fan spends $100,000 to look like Kim Kardashian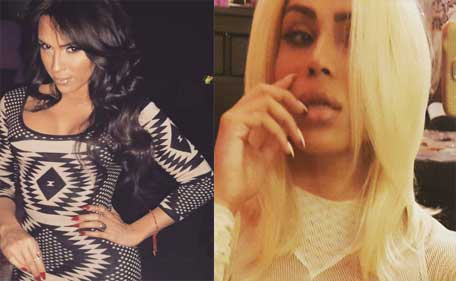 Thalia Almodovar is a stunner.
Her hair, her pout, those curves – she looks like a million dollar Kim Kardashian lookalike.
And, no joking, she did spent more than $100,000 to make herself look like her idol Kim.
Facebook
But Thalia Almodovar was born a man and remembers crying when she had to use the boys' toilets instead of the girls' at school.
She transitioned to female when she was in her teens, and had surgery on her chest and bottom in her early 20s.
Mirror reports, after having the surgeries, people began telling her that she resembled Kim Kardashian. She says she did not see it at first but was delighted that others did.
American TV star Kim Kardashian promotes her new scent Fluer Fatale in Dubai, UAE on November 24, 2014. (Ashok Verma)
Facebook
Thalia, a make-up artist, has had her bottom enhanced as well as breast implants to match Kim's.
She has also spent thousands on clothes and shoes so she can keep up with the Kardashians.
Facebook
The Kim lookalike is often stopped for a selfie and gets preferential treatments in clubs and pubs.
Thalia has perfected the pout and the walk and is ready to do Kim for a living - a professional lookalike.
Follow Emirates 24|7 on Google News.