Australia woos Middle Eastern tourists in Ramadan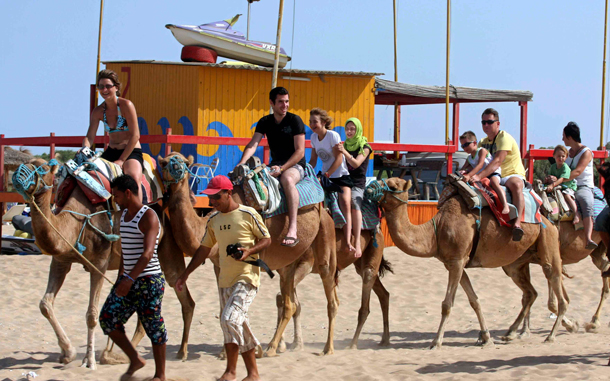 Despite sensitive Islamic issues such as the burqa ban getting Australia's politicians all hot and bothered ahead of a national election, for the country's tourism chiefs, Muslim tourists represent a vital source of revenue.
And although it's better known for campaigns that focus on bikinis and beaches, the industry is now going out of their way to welcome Muslim travellers from the Middle East in the month of Ramadan.
At the forefront of these initiatives is a new Ramadan evening lounge, inaugurated yesterday at the Courtyard Marriott Hotel in Surfers Paradise, one of the most popular holiday spots on Queensland's Gold Coast.
Minister for Tourism Peter Lawlor said the lounge would be a free facility during Ramadan where visiting and local Muslims can gather after a day of traditional fasting. It is open every Monday, Wednesday and Friday and will offer light refreshments.
Other efforts include the launch of a dedicated Gold Coast Muslim Visitors Guide that lists all of the city's Halal-certified restaurants, Gold Coast Tourism Director International Gordon Price told Emirates 24|7.
The Gold Coast is already a popular destination for Middle Eastern tourists, particularly in summer, when temperatures across Arabia can cross 50 degrees but the Gold Coast averages around 22 degrees during the day.
And with the Ramadan period, when Muslims fast from sunrise to sunset, coinciding with the peak summer travel period for at least another ten years, it makes sense to keep the high-spending visitors coming in.
Lawlor said while the Middle East was not Queensland's largest international market, it was definitely a high priority for the state's tourism industry because of its significant potential. Australia's tourism numbers have dwindled after record highs in the 1990s, but Lawlor said Queensland welcomed 20,500 visitors from the Middle East and North Africa last year.
"Tourism data also shows that Middle Eastern visitors to Australia contributed $573 million (Dh2.1 billion) to the Australian economy over the past year.
"Additionally, Middle East arrivals to Australia were forecast to grow more than 12 per cent per year between 2008-2013. These figures demonstrate the opportunity to better market the Gold Coast to the Middle East, make visitors from that international region feel more welcome, and see this convert into higher bookings and an increase in expenditure for the region."
Price said numerous Gold Coast tourism operators including theme parks, restaurants and hotels already catered to the Middle Eastern market by offering Halal-certified products, prayer rooms, copies of the Koran and prayer mats to Muslim visitors.
"Our visitors from the Middle East are well regarded by the local industry as they stay for extended periods and are very active around the city, they really like to experience all the things to see and do on the Gold Coast, and the Ramadan Lounge will certainly add to that," added Gold Coast Tourism CEO Martin Winter.
A visitor information centre in the middle of town has Arabic-speaking staff, while local tour operators such as Lawand Tourism will create packages for Middle Eastern guests.
And the Islamic Society of the Gold Coast will help with specific requirements, says Price.
To further leverage business into the territory, Tourism Queensland appointed a Dubai-based representative for the first time last November, in response to the growing potential of the Middle East market, Lawlor said.
"Tourism Queensland's current focus is on targeted marketing activity in the Middle East to promote the Sunshine State as a desirable holiday destination, strengthening travel industry relationships and developing airline partnerships," he said.
However, there's still some way to go. The new Ramadan lounge, for instance, is only open three days a week, but Muslims must fast every day.
Five of the best: halal dining options in The Gold Coast
Dreamworld: Billabong Restaurant
Sumptuous buffet with a great selection of international fare including roast meats, pasta, veggies, salads and mouth-watering desserts. The restaurant also caters for special diets including Jain cuisine and Halal foods.
Warner Bros. Movie World: Rick's Café
Enjoy your day at Warner Bros. Movie World with a touch of authentic Asian cuisine. Visit the International Dining Room, adjacent to Rick's Cafe Americain, and try the traditional Chinese set menu, or Indian menu prepared by our professional Asian chefs. Bookings are essential.
Tall Ship Sailing Cruises: McLarens Landing
McLarens Landing is an all-weather venue located in a beautiful natural bushland setting overlooking its own calm water private beach and is ideal for any type of event, day or night. The homestead and covered terraces cater for a range of functions and events and are perfect for breakfasts, lunches, dinners, sunset cocktails or fully themed events.
Take an exclusive-use cruise on the world famous calm waterways of the Gold Coast choosing from an array of square-rigged boutique Tall Ships or luxury high speed catamarans.
Tropical Fruit World: Plantation House BBQ
The facilities at Tropical Fruit World offer a range of recreational facilities for people of all ages. There is an Adventure Ride through the plantation to the rainforest and animal park, a boat ride to the Treasure Island playground, and a mini-train ride around the Water Lilly Lagoon.
The Magic Garden offers six full half-hour live shows every day, where visitors can taste, touch and learn about the tropical fruits in season. One of the highlights of a visit to Tropical Fruit World is to experience a whole new world of taste sensations available from the licensed Rainforest Cafe.
Tangalooma Wild Dolphin Resort: Tursiops Buffet Restaurant
www.tangalooma.com
Day and overnight tours to the Tangaloooma Wild Dolphin Resort depart all major Gold Coast hotels daily from 6.30am where you can enjoy casual buffet dining at Tursiops, including a scrumptious hot and cold breakfast selection.
Escape to beautiful Moreton Bay with a scenic cruise that in just over an hour will bring you to the crystal waters and white sandy beaches of Tangalooma Island Resort, whos facilities cater for all ages.
Follow Emirates 24|7 on Google News.