Spook Alert! See-thru airport staff on the prowl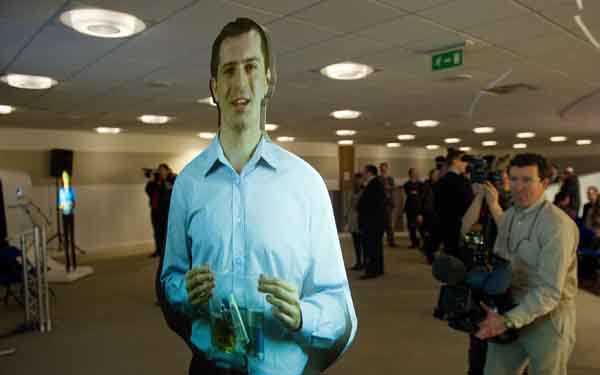 The next time someone talks to you at an airport, don't be surprised if you can look right through them.
Airport staff can be pretty lifeless at the best of times, but in a development that's right out science fiction novels, the current airport rage -- and a way to cut costs -- is to employ holographic staff.
London Luton Airport has become the first airport in the world to introduce holographic announcers or, for jargon-lovers, "tensator virtual assistants", British newspapers report. Manchester Airport also announced a plan to use holographic staff at the weekend.
The project uses the same technology behind bands like Gorillaz and is part of a series of initiatives aimed at simplifying the security process at the airports.
At Luton, the custom-designed pre-recorded projections come in both male and female versions (called Holly or Graham, take your pick!) and will first be deployed to remind passengers in the security area about liquid restrictions, and to have their boarding passes ready. They will be employed for an unspecified trial period.
Authorities say the move will prevent travellers wasting time when passing through security.
How long is it going to be before we spot people trying to get Holly -- or Graham -- to come down to the pub for a drink? Already, we're being told, some passengers have tried to hand them their passports.
Follow Emirates 24|7 on Google News.