Vladimir Putin - man, the machine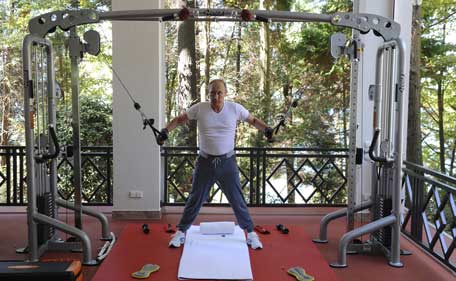 The Kremlin has released pictures of Russian President Vladimir Putin working out at the gym with Prime Minister Dmitrty Medvedev, images apparently aimed at shoring up Putin's rugged, masculine image as his popularity dips.
Russian President Vladimir Putin (L) and Prime Minister Dmitry Medvedev exercise in a gym at the Bocharov Ruchei state residence in Sochi, Russia, August 30, 2015. Reuters
Wearing a white T-shirt, track suit trousers and running shoes, Putin is shown on muscle-building apparatus in a publicity stunt that recalled previous shots of him shirtless riding a horse, flying a supersonic jet and hunting a tiger.
Putin's approval ranking has been dented by a sluggish economy and free-falling rouble RUB= whose value has halved since last year due to a decline in the oil price and Western sanction over Moscow's role in the Ukraine crisis.
Putin (R) and Medvedev exercise in a gym in Sochi, Russia, August 30, 2015. Reuters
After their workout, at Putin's Black Sea's residence of Bocharov Ruchei, near Sochi, the two politicians were shown on television grilling meat and having tea, adding to the healthy and wholesome picture.
Putin (L) talks with Medvedev in a gym at the Bocharov Ruchei state residence in Sochi, Russia, August 30, 2015. Reuters
Putin's rating remains very high by Western standards. A poll, published on Friday in business daily Vedomosti by the Public Opinion Foundation, showed 72 percent of Russians would have voted for Putin in August, down from 76 percent in May.
Reuters
According to polling organization the Levada Center, Putin's approval rating was 61 percent in November 2013, the lowest since 2000 when he was first elected President, but it surged above 80 percent early last year as Russians rallied around his actions over Ukraine.
Putin and Medvedev toast with tea cups during breakfast in Sochi, Russia, August 30, 2015. Reuters
Earlier, in few official photographs and video released Putin cultivates the macho image that Russians appear to love as they look to him to keep the country stable.
Putin was shown fishing and swimming the butterfly stroke in an icy river in the Tuva region of southern Siberia. He posed while sitting in a tree, wearing khaki pants and T-shirt with a canvas bush hat.
Vladimir Putin rides a horse in southern Siberia's Tuva region, August 3, 2009. Reuters
But the most astounding image was of 56-year-old Putin riding a horse through the mountains, his bare chest on full display.
These photographs posted on the Kremlin Web site were splashed all over the press and Internet, producing a storm of gossip and speculation.
Russia's Vladimir Putin swims in a lake in southern Siberia's Tuva region, August 3, 2009. Reuters
Putin, who is married with two grown daughters, has long cultivated a macho image. He has often been shown on television skiing down mountains and practicing judo, in which he has a black belt.
Vladimir Putin walks along the Khemchik River in southern Siberia's Tuva region August 15, 2007. Reuters
He has co-piloted a fighter jet, sailed on a nuclear-powered submarine and descended 4,600 feet to the bottom of Lake Baikal in a mini-submarine on a four-hour mission to inspect crystals containing natural gas.
Putin drives a snowmobile at Russia's ski resort Krasnaya Polyana near Sochi in southern Russia, January 3, 2010. Reuters
All of his exploits have been widely publicized, thanks to the government's control of the major TV stations.
Putin's summer holidays spent getting back to nature and fishing resonate with many Russians. They also provide a stark contrast to the yachting and globe-trotting lifestyles of many of Russia's super rich.
Vladimir Putin attends a judo training session at Top Athletic School in St. Petersburg December 18, 2009. Reuters
Energetic, strong and sharp-witted, Putin has long been compared to his predecessor, Boris Yeltsin, who was weakened by heart disease and embarrassed Russians with his drunken antics.
Putin carries artifacts he recovered whilst diving at an archaeological site off the Taman peninsular in southern Russia August 10, 2011. Reuters
Follow Emirates 24|7 on Google News.