Yoga festival gets off to damp start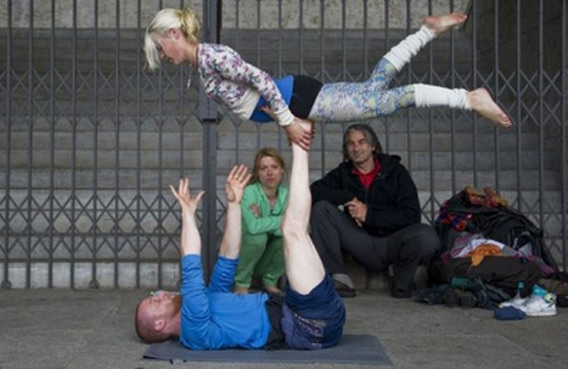 Twenty thousand yoga fans braved persistent rain in Berlin's Olympic Stadium on Saturday to take part in a huge festival organised by one of India's best-known gurus, Sri Sri Ravi Shankar.
The two-day event, billed as "the world's biggest yoga camp", features meditation, music and dance from across the globe.
But the 70,000 participants that organisers of the World Culture Festival had hoped for failed to materialise, with numbers affected by wet weather.
The event also celebrates the 30th birthday of the Art of Living Foundation, created by 55-year-old Ravi Shankar to promote a "stress-free mind and a violence-free society".
Shankar, always dressed in white and sporting a long dark beard, is one of India's five most influential people, according to US magazine Forbes.
He once studied under Maharishi Mahesh Yogi - the guru who famously inspired the Beatles. He is not to be confused with the world-famous sitar player Ravi Shankar, also associated with the Fab Four.
The stadium built for the 1936 Olympic Games plays a central role in the German sports and cultural calendar, hosting Berlin's main football team, concerts by the likes of U2 - and in September Pope Benedict XVI will hold a mass there.
Follow Emirates 24|7 on Google News.