Gold price has buyers paying 'more-for-less'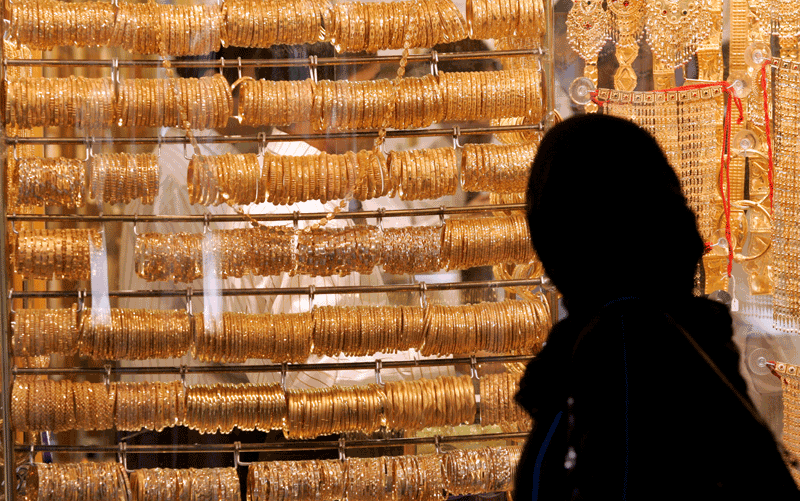 UAE residents and tourists cut back jewellery purchases last year due to higher prices of yellow metal but it still cost them Dh1.2 billion more than the previous year.
According to statistics issued by the World Gold Council, jewellery worth $2.471 billion (Dh9 billion) weighing 63.4 tonnes was bought last year in the UAE compared to 67.6 tonnes of jewellery bought in the previous year costing $2.105bn (Dh 7.72 billion). This resulted in 17 per cent additional cost to UAE residents and tourists.
While total bar and coin investments saw massive jump as investors bought considering yellow metal as safe heaven and expecting continued upward trend in its price.
Investments in bars and coins reached $338 million (Dh1.24bn) last year as compared to $195m in 2009, an increase of 74 per cent. In terms of weightage, 8.6 tonnes of bars and coins were purchased during 2010 as against 6.3 tonnes in the previous year.
In total, investments in jewellery, bars and coins increased 22 per cent to $2.809bn (Dh10.31bn) last year as compared to $2.29bn in the previous year (Dh8.40bn), World Gold Council statistics showed.
Gold rose above $1,410 an ounce on Monday as turmoil across the Middle East boosted safe-haven buying, though the metal struggled to sustain gains as investors were spooked by its proximity to record highs. Spot gold was bid at $1,410.50 an ounce on Monday evening, against $1,409.15 late in New York on Friday. US gold futures for April delivery rose by $1.60 an ounce to $1,410.90.
In the fourth quarter last year, jewellery sales rose 11 per cent in terms of value to Dh579m as against Dh520m for the same period last year while investments in bars and coins jumped 89 per cent to Dh83m from Dh44m.
In terms of weightage, jewellery sales dropped to 13.2 tonnes in Q4 2010 as against 14.7 tonnes in the corresponding period last year.
Silver is the new gold:
Prices double in a year
Gold is "ultimate bubble"
- Soros
Gold-flavoured
mineral water in Dubai
Follow Emirates 24|7 on Google News.