Is it sink or swim for gold investors?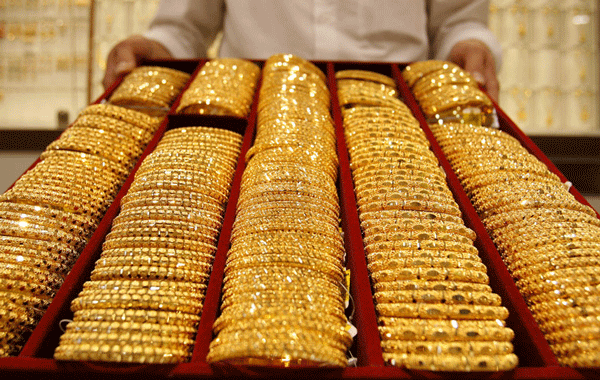 Is the current drop in gold prices an opportunity to buy or does it mark the end of the golden period for the safe haven commodity? That's the billion dollar question that analysts the world over are trying to answer.
Gold prices have declined to three-month lows on renewed risk appetite among global investors encouraged by positive data coming out of some the world's largest economies.
As optimism over the prospects for the global economy is spurring renewed risk appetite, and the belief that gold will fall out of favour is gaining ground.
Genuine confidence encourages diversification into different, riskier assets and subsequently away from gold.
But is the appetite for risk huge enough to mark a reversal in the gold trend?
According to analysts at Standard Bank, the renewed risk appetite has worked against gold and it has fallen because of reduced safe-haven demand.
"Such dips [dips in the price] used to be temporary, with precious metals, especially gold and silver, continuing to rally despite easing to risk aversion.
This unusual relationship is best expressed in the negative long-term (one-year) correlation between risk aversion (as measured by the VIX Index) and precious metals.
"A major factor pushing gold and silver higher, despite the general trend of lower risk aversion has been ample global liquidity and low long-term real-interest rates.
"However, we believe that this relationship could be changing, as shorter-term correlations (20-day) are now positive for gold and silver. This leads us to believe that investment demand for gold and silver is starting to wane, and that the support these metals enjoy from global liquidity and low real-interest rates is starting to be outgunned by the generally lower levels of risk aversion," say analysts at Standard Bank.
Some experts opine that the time is still to come when we can actually say it's a reversal and that should take atleast six months.
"We are still looking for an equilibrium of different forces in effect and I still cannot see the sustained return of risk appetite for riskier assets. Some stock markets (eg. US, Germany) are performing strongly but some are not (eg. Japan, China). According to technical analysis, we need to cross the previous high of 1.43 in EUR and 1.70 in GBP to be able to say it is a long-term uptrend. For gold, it is still early to talk about a long-term reversal in trend.
"The weekly close of last week below 1,360 level was showing signs of weakness and a weekly close below 1,330 level might trigger even a stronger down movement but this will still be limited to medium/short term. Long-term charts are still not ready for a down trend and it will take gold some time (at least another 6 months) to be able to complete a reversal pattern in this time frame.
Although I keep saying gold is overbought in the long-term charts, this alone is not enough to reverse the trend and we need to continue watching the price action to spot the turning point," Zeki Muderrisoglu, Fund Manager & Senior Technical Analyst, Asset Management Group at National Bank of Abu Dhabi told Emirates 24|7.
According to MR Raghu, Senior Vice-President-Research at Kuwait Financial Centre (Markaz), there is definitely a jump in global growth but what's more important is that we consider the composition of this growth. "[Let's] look [at] the composition of global growth. Smaller economies (like the emerging markets) contribute 2/3rds of growth while larger economies (US and Europe) have an insignificant share.

This is not sustainable growth. Until and unless the big boys return to normal health (not prime health), we will see ability to assume risk being on the lower side.
Given this scenario, precious metals will still function as a shield for some time to come. Of course, like any other asset class, they will experience volatility, especially during times like these," he told this website.
Follow Emirates 24|7 on Google News.