Markets in a tizzy: Gold, silver, oil surge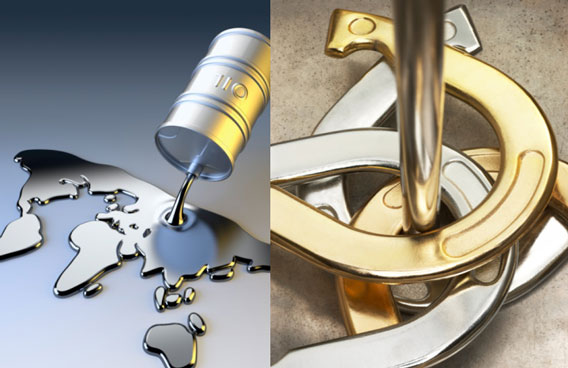 Gold prices stuck a new lifetime high of $1,434.50 an ounce yesterday as investors, worried about the impact of a rising oil price on global inflation, once again turned their attention to the yellow metal for its safe haven status.
After fighting resistance levels for the last five days, gold prices smashed through the earlier high of $1,422.6 made on January 3 this year, and the metal is still trading above $1,430/oz.
Analysts maintain that the current bull-run could see gold smashing the $1,500-barrier within the next few weeks. "Thinking on targets, it's hard to imagine gold stopping short of $1,500, maybe $1,550, before this run ends. Tomorrow (Wednesday) it might back off a little, but as long as it doesn't close lower than $1,422.60, it intends to hold on to its gains," says veteran gold bull Franklin Sanders on his blog at goldprice.org.
Meanwhile, silver made another high yesterday of $34.72/oz, and is still trading near that level at $34.51/oz, suggesting that the white metal too is in no mood to give up on its status as a better investment tool than gold, with silver now having appreciated 102 per cent in the past one year compared with gold's relatively tame 26 per cent ascent during the same period.
Pushing up the prices of precious metals is the surging price of oil, which has reached levels above $115/barrel, up 22 per cent in the first 60 days of 2011, and up more than 48 per cent in the past one year. Last month, Brent crude posted its strongest monthly gain in percentage terms since May 2009, and analysts worry that rising tensions across some of the oil-producing Middle East nations may fan the fires further.
Expectedly, this is taking a massive toll on local and regional stocks, with the benchmark Dubai Financial Market general index falling 4.3 per cent in early trade this morning, with the decline led by property stocks. Union Properties led the losers with the stock price down 9.82%, Deyaar down 9.05% and Arabtec shares losing 8.96% at 11:15am local time.
Stocks across the region today seem to be tracking yesterday's rout at the Saudi bourse, which slumped 6.8 per cent on Tuesday.
Follow Emirates 24|7 on Google News.