Samsung profit guidance suggests costly Galaxy S6 miss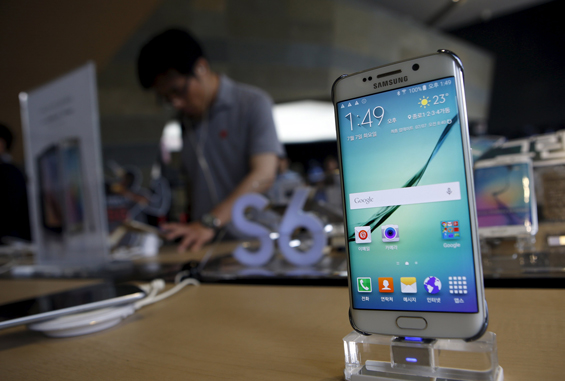 South Korean tech giant Samsung Electronics Co on Tuesday guided for weaker-than-expected second-quarter earnings, as a supply shortage plagued its latest smartphone launch and tepid demand from key markets likely undercut sales.
The guidance suggests that Samsung, while on a gradual recovery path, will struggle to replicate the explosive growth it recorded at the turn of the decade as smartphone competition intensifies and demand softens in China and Europe.
Operating profit for the second quarter likely fell 4 per cent from a year earlier to 6.9 trillion won ($6.13 billion), Samsung said in a filing, its best profit in four quarters but also the seventh straight period of annual decline.
The average forecast from a Thomson Reuters I/B/E/S survey of 39 analysts was a profit of 7.2 trillion won.
"It doesn't matter how competitive you are if overall demand is weak," HMC Investment analyst Greg Roh said. "Third-quarter earnings will likely be similar to the second quarter."
Revenue for the quarter would fall 8.3 per cent from a year earlier to 48 trillion won, well below the 53.4 trillion won average analyst forecast and the fifth consecutive quarter of annual decline. The company gave no other specifics and is expected to report its full results in late July.
Samsung shares had jumped 2.1 per cent as of 0213 GMT (6.13am UAE time), outperforming a 0.3 per cent decline for the broader market as investors appeared to breathe a sigh of relief that the guidance was better than analysts' worst fears.
Samsung's annual profit is expected to rebound this year from a three-year low in 2014, but its shares have languished in recent months amid doubts about sales of its new Galaxy S6 smartphones.
A failure to make enough curved-screen S6 edge models to meet demand likely hurt mobile-related earnings, analysts believe. While the company says it has fixed the problem, it may be too late to fully capitalise on a lull in competition for new high-end devices ahead of the launch of the latest Apple Inc. iPhones, expected as early as September.
China's economic slowdown is also pinching smartphone makers' earnings. Chinese rival Xiaomi Inc. last week said first-half sales fell from the previous six months.
Industry-wide shipments in China, the world's biggest smartphone market, slipped in the first quarter for the first time in six years, researcher IDC said in May.
HDC Asset Management fund manager Park Jung-hoon said Samsung probably decided not to force volume growth for mid-to-low tier smartphones, choosing to preserve margins at the expense of sales.
Follow Emirates 24|7 on Google News.