200km @ 100kmph, full charge: Dubai's e-bus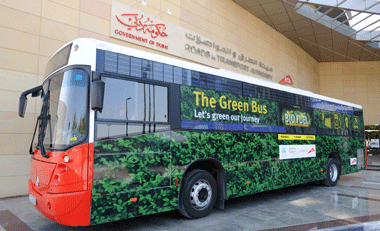 The Roads and Transport Authority (RTA) has announced that it will shortly embark on the trial run of electric buses (powered only by electricity supplied by rechargeable batteries).
The battery can be recharged up to 80 per cent in less than 30 minutes and the bus can cover up to 200km with a full battery at a speed of 100km per hour.
The RTA will coordinate with the Dubai Electricity & Water Authority (Dewa) about future steps as regarads providing the infrastructure of electric vehicles.

Mattar Al Tayer, Chairman of the RTA, said: "This step is aimed at fostering a green economy in the UAE in view of the importance of power for humans and various ingredients of development projects. "

The RTA will embark on the pilot operation of electric buses to assess the associated environmental benefits, measure the rate of reduced carbon emissions, identify the distance covered by the bus following each battery recharge process in addition to other parameters such as the bus speed, prescribed battery life span, ability to cope with the climatic conditions of the UAE particularly during summer, engine efficiency, and maintenance costs among others.

In the light of these assessments, the RTA will decide on the next step to be taken.

Hybrid Vehicles
In June 2008, the RTA initiated the pilot operation of 10 hybrid environment-friendly vehicles of Chevrolet (Tahoe and Malibu brands) powered by fuel and electricity.
During the pilot period, the RTA measured the ability of hybrid vehicles' batteries to withstand the excessive heat of the region, lifetime of batteries and the percentage of fuel saving made.
The RTA also tentatively used a number of hybrid vehicles of Toyota brand and results of this pilot operation showed that test vehicles covered more than 550 thousand kilometres without experiencing failures or major maintenance issues in major components.
Fuel efficiency improvement amounted to 33 per cent, and carbon dioxide emissions dropped by 33 per cent as well.
For instance the normal vehicle needs about 12½ litres of petrol to cover 100km, while the hybrid vehicle needs around 8¼ litres to travel over the same distance. CO2 emissions of the normal vehicle are estimated as 182kg per day, whereas CO2 emissions generated by the hybrid vehicle measure about 121kg per day.

CNG-Powered Abras
In May 2007, the RTA, in cooperation with Emirates Gas Company, launched the pilot operation of three abras powered by compressed natural gas (CNG) instead of diesel as part of the keen attention of the RTA to improve and upgrade marine transport service using traditional abras for shuttling between the two banks of the Dubai Creek.
Follow Emirates 24|7 on Google News.