Abu Dhabi Police activate 16 flash-less cameras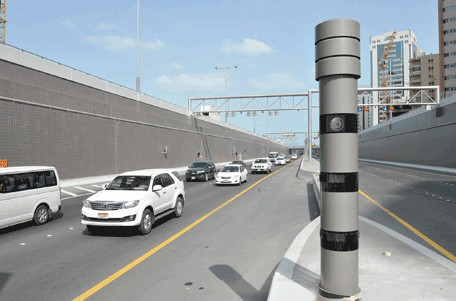 The Traffic and Patrols Directorate at Abu Dhabi Police announced the activation of 16 additional surveillance cameras to detect red-light jumping vehicles on five intersections in Zayed City in the Western Region, as of Monday, April 13.
The new system complements the traffic control systems that were previously installed on Abu Dhabi Island to detect traffic violations, notably jumping the red light and exceeding legal speed limits.
The new system falls in line with the integrated project to improve traffic safety at intersections in the emirate of Abu Dhabi, which was initiated by the Traffic and Patrols Directorate in 2012. As a part of the project, 150 light-controlled junctions will be fitted with surveillance cameras in Abu Dhabi, Al Ain, and the Western Region within the next five years.
Brigadier Hussein Ahmed Al Harithi, Director of Traffic and Patrols Directorate at Abu Dhabi Police said: "Traffic violations logged by surveillance systems at intersections in the Western Region include jumping the red light, failure to respect lane rules, stopping vehicles on pedestrian crossings, failure to adhere to designated legal speed limits, overtaking at intersections, making turns or U-turns from the wrong lanes, and failure to give priority to pedestrians."
Adding further, Brigadier Al Harithi noted that traffic monitoring is one of the key traffic safety improvement projects on the roads and intersections in Abu Dhabi.
"It is an integrated project encompassing the necessary components to improve traffic safety, allowing continuous assessment of the engineering of intersections and their impact on traffic safety."
He also explained that the high-tech traffic surveillance cameras used at intersections in the Western Region use high quality thermal infrared cameras covering more than five lanes in each direction.
They are also multifunctional, and include infrared license plate readers.
They are used to determine the numbers and types of crossing vehicles, estimate the average speed, and determine the number and directions of pedestrians during the green and red lights."
Brigadier Al Harithi stressed the commitment of the Abu Dhabi Police to curb traffic accidents resulting in deaths and serious injuries.
He said: "The directorate is exerting considerable efforts to curb road accidents by increasing traffic control and installing state-of–the-art automated traffic violation monitoring systems on the internal and external roads in Abu Dhabi.
"The directorate also endeavors to intensify traffic awareness through the media and lectures in order to boost communication with all segments of society.
"It also urges all road users to adhere to the traffic laws and regulations."
Follow Emirates 24|7 on Google News.