Air raids kill 25 civilians in Syria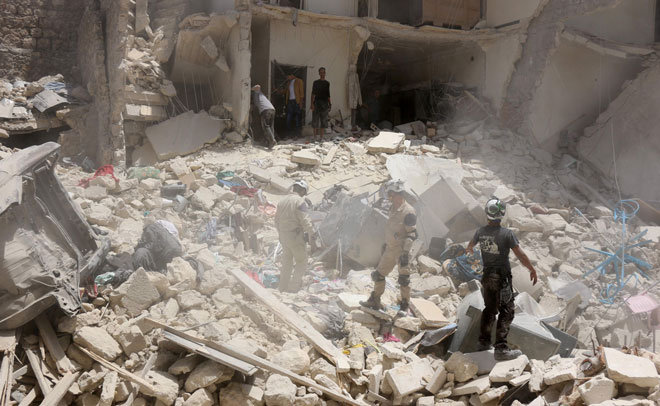 Warplanes have bombed Daesh's de facto Syrian capital Raqa, killing at least 25 civilians, after the militants drove pro-government forces out of their bastion northern province.
Twin offensives aimed at severing the militants' supply line from the Turkish border to Raqa city appear to have largely stalled as Daesh mounts a fierce defence using suicide bombers.
Six children were among the 25 civilians killed in bombing raids on Raqa city late Tuesday, according to the Syrian Observatory for Human Rights.
"Dozens more were wounded, some of them critically," said the British-based monitoring group, which was not immediately able to determine who had carried out the raids.
The Syrian government, its longtime ally Russia and a US-led coalition have all carried out air strikes against Daesh in Raqa.
The Observatory said there were fresh air strikes - apparently by the coalition - on the city on Wednesday, one of which hit the town hall.
Raqa is Being Slaughtered Silently (RBSS) - an anti-Daesh activist group which gathers news on atrocities in the city - posted photos of what it said were the aftermath of Tuesday's strikes.
They show a concrete balcony hanging off the damaged facade of a residential building as a large fire engulfs a white minivan.
The group has accused Daesh of preventing civilians from leaving the city in order to use them as human shields.
RBSS activist Abu Mohammad told AFP that the wounded were struggling to get proper medical treatment as Daesh has recruited most doctors in the city to treat its own fighters.
'Disastrous' retreat
Raqa city was seized by Daesh in early 2014 and regime forces were expelled from the entire province that year.
Backed by Russian air power, government troops re-entered the province this month as part of an offensive to retake the town of Tabqa, a key stop on Daesh's supply route from Turkey to Raqa city.
But after advancing to within seven kilometres (four miles) of Tabqa airbase, they were driven back an estimated 20 kilometres late Monday.
More than 40 troops and militia were killed in a militant counterattack.
Al-Masdar, a news website close to Syria's regime, said on Wednesday the lightning Daesh offensive had led to a 'disastrous turn of events' and "a disorganised retreat that left behind weapons and several soldiers."
Syria analyst Fabrice Balanche said the pullback could be attributed to a lack of "elite forces" engaged in the battle.
"At the first suicide attacks, they retreated," the Washington-based expert told AFP. "The Syrian forces were spread too thin to be defendable."
Further west in the adjacent province of Aleppo, another assault aimed at blocking Daesh supplies has stalled.
The US-backed Syrian Democratic Forces encircled the militant-held town of Manbij on June 10 but have since faced a barrage of Daesh suicide attacks, including three on Tuesday, the Observatory said.
'Civilians are starving'
Syria's conflict began in 2011 as protests demanding political reform and the ouster of President Bashar al-Assad.
But a brutal regime crackdown and the rise of militant groups have transformed it into a multi-front civil war that has killed more than 280,000 people.
Peace efforts have failed to put an end to the violence, and a truce brokered by the US and Russia has all but collapsed.
UN mediator Staffan de Mistura said Tuesday he hoped peace talks could resume in July, but warned they could not proceed "while hostilities are escalating and civilians are starving."
Negotiations could restart if the truce is reinforced, humanitarian aid is increased, and a "common understanding of a political transition" is reached, he told the General Assembly via video link.
"Then we can have, hopefully in July, inter-Syrian talks that are not about principles but about concrete steps to a political transition," he said.
The main Syrian opposition body - the High Negotiations Committee - has called for a transitional government body without Assad.
But Syria's regime says Assad is a "red line" and it would only be willing to broaden the government structure to accommodate some opposition figures.
Follow Emirates 24|7 on Google News.