BA plane catches fire at Las Vegas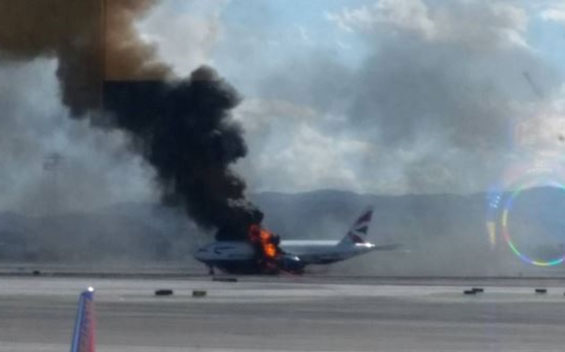 A British Airways flight was evacuated on Tuesday after one of its engines caught fire as it was taking off from Las Vegas headed to London, aviation officials said.
"There were 159 passengers and 13 crew on the flight," McCarran International Airport in Las Vegas said.
#BritishAirways engine fire today at KLAS ✈️😔 pic.twitter.com/YpMEyuXFxL

— ✈Monica-مونيكا ✈️ (@vargasmoni) September 9, 2015
"Two were transported for minor injuries."
Boeing in a statement Tuesday, said: "We're aware of the incident at McCarran Airport in Las Vegas. Our teams are currently gathering more information."
(AP)
The Federal Aviation Administration said the fire broke out in the plane's left engine prompting the crew to abort takeoff.
"Passengers deplaned on the runway using emergency slides and (were) bused to the terminal," FAA spokesman Ian Gregor told AFP.
(AP)
He said it was unclear why the 275-seat Boeing 777 jet bound for London's Gatwick Airport caught fire.
Passengers described scenes of panic on the plane with one witness telling CNN "we heard a lot of screaming."
Some of the passengers posted videos and pictures that showed plumes of smoke and flames engulfing the aircraft.
"Just got evacuated from our flight#BA2276 plane caught fire somehow omg," passenger Dominic Worthington on Twitter.
(AP)
Paul Berberian, a passenger aboard another plane that was on the tarmac at the time of the incident, described watching in disbelief as the British Airways plane caught fire.
A video shot by Berberian and aired on CNN shows passengers of the stricken plane using evacuation slides and running away on the tarmac as emergency vehicles rush to the site to douse the flames.
"We were all glued to the side of the plane watching this unfold," he said of fellow passengers on his flight.
McCarran Airport said air traffic had resumed normally apart from the runway where the British Airways plane was still parked by late afternoon.
Follow Emirates 24|7 on Google News.