Beachgoers beware of the shy but dangerous stingrays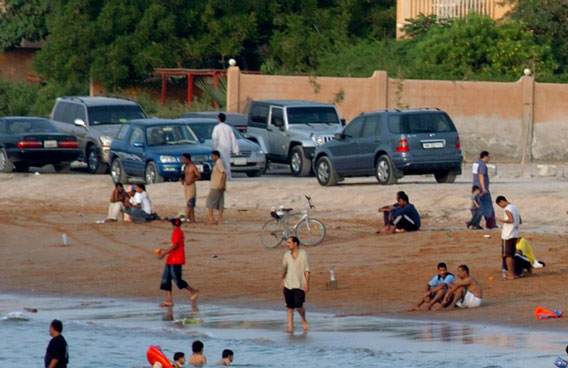 Beachgoers have been warned to be aware of poisonous and dangerous fish, especially the stingrays along the UAE beaches following the drowning of a college student in Ras Al Khaimah.
A senior official of Dubai Municipality's Marine Environment and Wildlife Sanctuary Section told Emirates 24|7 that stingrays can be found in the UAE waters during the beginning of summer and are most often buried under the sand close to the shoreline.
"People obviously need to be cautious. The best way beachgoers can avoid them is by dragging their feet on the sand. The stingrays move away when they feel something approaching them," said Mohammed, Abdul Rahman Hassan, Head of the Marine Environment Section.
According to him stingrays can most commonly be found between March and July. "They will not attack unless they are touched or harmed in any way. They attack in self-defense. Beachgoers should also keep away from playing with them, when they are found in the water," he added.
Jagpreet Singh, 26, drowned in a beach near Ras Al Khaimah last week and according to his brother a stingray had attacked him. During his postmortem, doctors identified the presence of poison, caused by a stingray attack in his body.
Meanwhile, Majdi Tag, Dubai Municipality's most senior lifeguard said stingrays are very common in Dubai's beaches, especially in the month of July.
"They usually come to eat small crabs and can be found in the early mornings. But as soon as people start coming to the beach they move away," said Tag.
Stating that he had not come across any cases of stingray attacks during the last two years he said, "The last one I can remember is of a German man who was stung about three to four years ago. He tried to play with a stingray in the water. He was immediately rushed to the hospital for a tetanus shot. Six months later he returned to Dubai and told me that a doctor in Germany had removed a barb from his finger," said Tag.
According to him tourists these days are very aware of the dangers. "The Russians, especially ask us about the stingrays and we advise them to be aware, mostly in June and July," he said.
A stingray attack cannot go unnoticed as it is really painful. "People come out screaming and crying. All lifeguards have been specifically trained to deal with such cases. We immediately call for an ambulance and the patient is rushed to the hospital. The first step it to inject the patient with a tetanus. Secondly, if a barb is present in the body it has to be operated and removed," he added.
Follow Emirates 24|7 on Google News.