Charlie Sheen outranks Obama and Lady Gaga in social media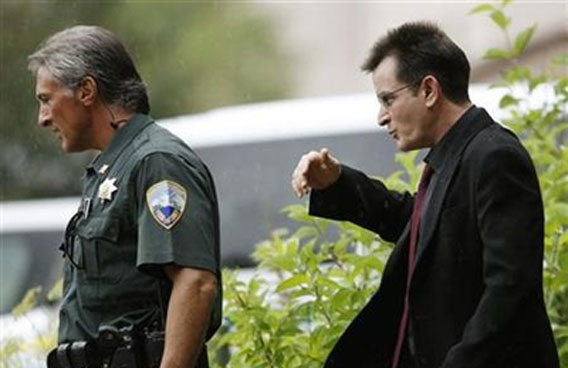 If you think Charlie Sheen has been "winning" media attention these past few weeks, you'd be right.
The now former "Two and A Half Men" star has topped all Internet and social media discussions since the beginning of 2011, beating out buzz and controversy surrounding the iPad, singer Lady Gaga and U.S. President Barack Obama, according to a survey released on Tuesday by the Global Language Monitor.
"Charlie Sheen...is everywhere. The growing pervasiveness of social media only enhances this global echo chamber," said Paul JJ Payack, president and chief word analyst for the Global Language Monitor.
Payack used an algorithm to analyze the top 20 persons (or things) of interest on blogs, Internet-only news sites and social media sites like Twitter and YouTube between January 1 and March 8, 2011. Sheen was first, followed by Apple's iPad, Lady Gaga, Obama and Tea Party favorite Sarah Palin.
But the wayward TV star ranked just 18th among the top 75,000 traditional print and electronic media sites covered in the survey.
Obama, French President Nicolas Sarkozy and deposed Egyptian President Hosni Mubarak were the top three persons of interest on the traditional media list, "which shows what happens when you have an editorial process that helps discern which news is most significant for the reader," Payack said.
Still, after weeks of bizarre behavior, insults to producers of his old show and boasts about having "Adonis DNA" and "tiger blood," pop culture and social media users just can't seem to get enough of the 45 year-old actor.
And on Tuesday, a comic book was added to an eclectic list of products marking Sheen's public meltdown. Publisher Bluewater Productions said the actor's "life, career and recent shocking behavior" would be the subject of a 32-page biography comic book for release this summer.
The comic joins a Sirius XM "Tiger Blood Radio" channel, and an extra strong strain of cannabis on sale in California medical marijuana dispensaries.
Meanwhile, as broadcaster CBS and "Two And A Half Men" makers Warner Bros. TV pondered whether to continue production next season without Sheen, sportsbook website JustBet.com posted odds on what would might happen next in the saga.
Most bets are on Sheen getting arrested for driving under the influence (56 percent) or cocaine possession (33 percent).
Sheen has insisted that he is clean and sober, and that the only drug he is on is "called Charlie Sheen."
Follow Emirates 24|7 on Google News.