Child overcomes serial rapist with Quran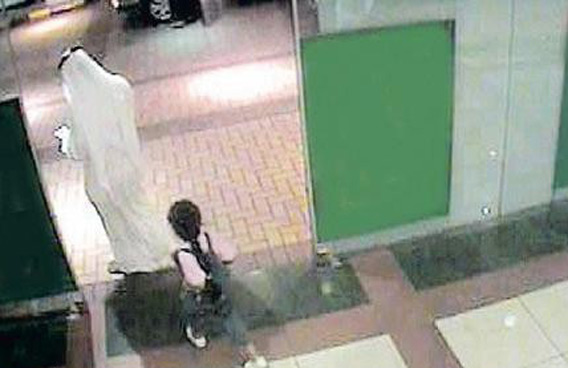 Like the legendary vampire Count Dracula who backs off his victim when shown a cross in movies, a Saudi serial child rapist who managed to overpower 15 little girls was overpowered by his 16th victim. Her only weapon was the Quran.
Maha, 9, was the last victim of the 42-year-old school teacher who had raped 15 girls aged below 10 years over a period of nearly four years before he was arrested by Saudi police early this month.
The man, who is married with six children, snatched Maha late night from a wedding hall in the western Red Sea port of Jeddah, bundled her in his car and took her to his apartment in the Gulf Kingdom's second largest city.
The little Saudi girl was with her family in the wedding at a public rest house when the outside door was knocked late night.
She went and opened the door to find a strange man who asked her to come with him and take a bag for the bride.
Scared by his looks, she refused and was about to rush back into the rest house when he grabbed her and dragged her to his car. He slapped her many times, bundled her in his car and sped away.
"At his flat, he tried to take my clothes off and rape me but God the Almighty inspired me to read Quran as I have memorized many verses in class…I was surprised when I saw him jumping away from me when I started reading…he then came forward, slapped me many time sand told me to shut up," Maha said, quoted by the Saudi Arabic language daily Burnews.
"When I stopped reading, he came slowly towards me and tried again to rape me but I started to read Quran verses again……he backed off then came forward and slapped me again…I did not sleep all the night as I kept reading Quran until the morning….despite his attempts, he could not rape me."
Maha said that after sunrise, he sat away from her smoking shisha and watching television before telling her to put her shoes on and follow him to his car.
"He put me in the car and ordered me to put my head down…on his way out of that area, I managed to slightly lift my head and could see some sites that helped me locate his apartment…I saw two well know pharmacies, which were not far from his flat…he then took me to a park not far from that area and dumped me there…I asked a man to help me and he took me home."
Saudi police said last week they had seized the teacher following a manhunt of nearly four years after they were told my Maha about his whereabouts. Some of his victims recognized him while DNA tests confirmed his crimes.
Police had earlier said the man had raped 13 little girls but newspapers on Tuesday quoted a police spokesman as saying there are 16 victims.
The papers said the rapist had stalked girls near rest houses and wedding halls in Jeddah and used to give them sweets or other items to lure them into his car.
He had first used a Toyota Prado to hunt for victims but later changed it into a small car with black glass so his victims will not be seen by others.
"He was taking the little girls to his house and rape them….before he goes out hunting for victims, he used to take his wife and children to a rest house far from his home and leave them there for some time."
Maha, whose father is a police man, last week told police how that man snatched her from a rest house late night, slapped her many times before bundling her in his car and took her to his apartment.
"Kill him…kill him when you catch him," the school girl told the police after recounting what she had been through and how she came back home.
Follow Emirates 24|7 on Google News.