Bodies of RAK family to be flown to India tonight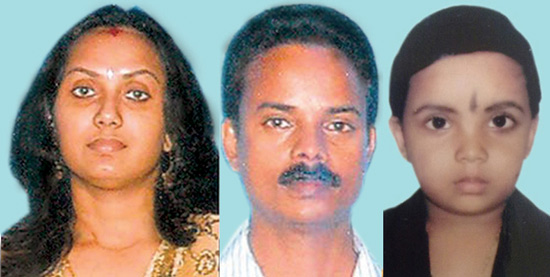 The dead bodies of three Indian family members who committed suicide in Ras Al Khaimah last week will be repatriated back home on Wednesday. The bodies will be taken to Sharjah Airport by 6pm tonight to be repatriated on the 12am Air India flight to Kochi. All three bodies will be sent on the same flight, 'Emirates 24|7' has learnt.
Earlier stories
"All necessary documentation is over; we are only waiting for some last minute formalities to be completed and the out-pass to be issued by the Indian consulate in Dubai," said AK Sethunath, President of RAK Kerala Samajam, an organisation of Kerala expatriates in Ras Al Khaima, that is overseeing the repatriation of the bodies.
According to him, the out-pass became necessary as the passports of two of the dead are held by an unknown money lender.
"The bodies will be sent in two different aircrafts. You can only send two dead bodies per flight. So we are planning to send two from Sharjah and one from Dubai. We have been trying our best to send them today itself. But it is already late. Although the embalming and other procedures are complete, they have to be at the airport five hours in advance," said Sethunath.
Anil Kumar, 38, his wife Sreeja, in her mid-thirties are believed to have committed suicide by hanging themselves in two different rooms, after suffocating their eight-year-old daughter Anishree to death and later hanging her from a ceiling fan in another room. The postmortem report has confirmed that the child was killed first. "Sreeja was also eight months pregnant," he said.
According to him the bodies were totally decomposed when it was found. "The doctors at the hospital said the bodies were already dead five days ago when it was found," he added.
Debt killed this family of three
Anil Kumar, 38, his wife Sreeja, in her mid-thirties are believed to have committed suicide by hanging themselves in two different rooms, after suffocating their eight-year-old daughter Anishree to death and later hanging her from a ceiling fan in another room.
The family were found dead in a villa in Ras Al Khaimah on Friday.
It now emerges, from a close family friend, who found the bodies, that Kumar was so heavily in debt that is must have driven him to take the extreme step.
The child's face was covered with a cloth when it was found. Police are treating the case as a murder and suicide.
Jaffer Al Deen Abdul Salam, a real estate agent who had helped Kumar rent the villa in Ras Al Khaimah eight months ago told 'Emirates24|7' that the couple were left with no money to even buy food or medicines.
"I knew they were in some sort of financial trouble because their rent cheques bounced. I spoke to Nayar's wife Sreeja on August 21, when for the first time, she explained to me in detail the financial mess they were in," he said.
Kumar had started a business a few years back. He had purchased trailer trucks with bank loans of more than Dh300,000.
With the current market situation, he went out of business. Following an accident in Oman involving one of his trucks, his situation worsened.
Finally, he started driving a truck himself and at times used to work 24 hours at a stretch. But his debts only increased.
He was unable to even pay a monthly bank installment of Dh10,000. To deal with the situation he applied for several credit cards and things got worse.
"On August 21 when I visited their house, the child was unwell, but her mother had no money to even take her to the hospital. Finally, I had to force her to accept Dh100 for hospital expenditure. I even told her to return to India with the child, but she was worried about her husband," he said.
Sreeja had even told Jaffer that her husband was struggling as many of his payments were held up. "Several companies that did business with him were also delaying payments.
He had shown me many post-dated cheques. But at the end of the day they were of no use," he added.
Meanwhile, Kumar had tried to sell his Nisan Tiida for Dh9,000. "There was a buyer. But unfortunately he could not complete the transfer as he had a Dh5,000 fine on one of his trucks and another case that was registered by a bank. The buyer backed out and Kumar returned disappointed," he said.
Jaffer says he then asked Kumar to seek help from the Indian Association in Sharjah and had even prepared a letter on his behalf. "For some reason he never turned up. The next day I went to India for Eid and returned only on Friday," said Jaffer, who later visited the villa in the evening.
"I first knocked on the door but when there was no response, I had to call the police and we had to break open the door only to find the three dead bodies," he adds.
The police have completed the post mortem and efforts are on to repatriate the bodies after the completion of necessary documentation.
RAK family suicide: Moneylender withheld wife, child's passports
The Indian family who committed suicide in Ras Al Khaimah last week could not return home because the man had kept his wife's and daughter's passports with a private moneylender as a security guarantee.
The woman's father was quoted as saying his daughter was pregnant and couldn't travel to India because passports were with a moneylender from whom her husband had borrowed Rs500,000 (Dh40,000).
According to a 'Gulf News' report, he alleged the lender was demanding Rs1.5million with interest, which was an herculean task for the family.
Meanwhile, Ras Al Khaimah Police said the man had taken around Dh300,000 in loans from banks to purchase trailer-trucks.
When one of his trailers was involved in a major accident in Oman, causing huge losses, he was trapped in financial trouble.
Kumar had visited his hometown last October to dispose of his property to arrange for money.
His father-in-law was quoted as saying Kumar also mortgaged his wife's property for a loan to clear debts in the UAE.
One of the deceased's relatives said he brought about Rs1.5-2million from India to settle his financial obligations.
However, his problems never ended.
Follow Emirates 24|7 on Google News.