Dubai Parks' new ride in theme park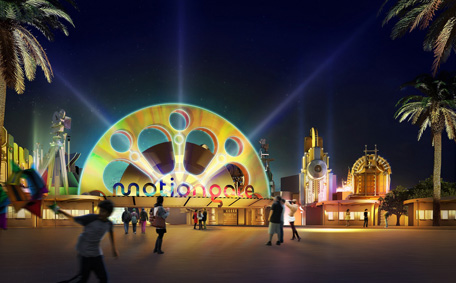 The second instalment of 'Hotel Transylvania' will hit screens in the UAE on September 24, 2015, but thrill seekers, across the globe, will have to wait until October 2016 to experience the 'monster journey' – for the first time in the world – in Dubai.

Revealing details of the new attraction on Tuesday, Guido Zucchi, General Manager, Motiongate Dubai, said the ride, a trackless system consisting of small four-seater vehicles, will be set within the Sony Pictures Studios zone and will offer a monster-filled seven-minute seated trip, which will unfold before the 535-year-old Count Dracula, Mavis and their band of frightfully funny friends.

Part of the theme will be a Hotel Beastro, a family dine-in restaurant with 280 seating capacity, besides the park offering interaction with movie characters to lively performances on the movie songs.

"The story line of the attraction will be based on the bon voyage or a surprise party organised by all the monsters for Mavis.

"You will be surprised where the train is driving you as you will not be able to foresee it. There will be lot of crisscrossing as we will have 27 round within the attraction. There you will meet all the (movie) characters as well."

From left: Stanford Pinto, Chief Parks Operating Officer, Dubai Parks and Resorts; Shaikha Al Shamsi, company Head of Destination Marketing; Vinit Shah, company Chief Destination Management Officer along with Guido Zucchi, General Manager, motiongate Dubai, seen here with characters from Hotel Transylvania. (Supplied)

MotionGate Dubai will have 27 themed rides and attractions, 21 of which will be indoor, which will be spread across five zones; DreamWorks, Lionsgate, Sony Picture Studios, Smurfs Village and Studio Central, the entrance of the park.

The attractions are based on movies such as 'Chance of Meatballs', 'Ghostbusters', 'The Smurfs', etc. from Sony Pictures Studios; 'How to Train Your Dragon', 'Kung Fu Panda', 'Madagascar' and 'Shrek' from DreamWorks Animation and 'Step-Up: All In', 'Step-Up: Revolution' and 'The Hunger Games' from Lionsgate.

"Currently, more than 11,000 workers are on the site and it will be increased now as the mid-day break rule has just ended. We will now be ramping up our workforce to align with opening timeline," company's Chief Destination Management Officer Vinit Shah told Emirates24|7.

Though the attractions/rides in Motiongate Dubai will be in the outdoor area, the queuing up facility is completely air-conditioned.

"In between, we will have a lot of shading and at any point you will not be more than 200 metres away from a cooled area," he added.

Dubai Parks and Resorts, listed on Dubai Financial Market, is the developer of the Dh10.5 billion destination, comprising Legoland Dubai, Bollywood Parks Dubai and Motiongate Dubai.

It will also have a Lapita, a Polynesian-themed hotel that will be managed by the Marriott Group, and Riverlan Dubai, a centrally located district of 220,000 square feet of leasable retail, dining and entertainment space connecting the three theme parks, water park and hotel.

Follow Emirates 24|7 on Google News.