Dubai Search & Rescue saved 7 workers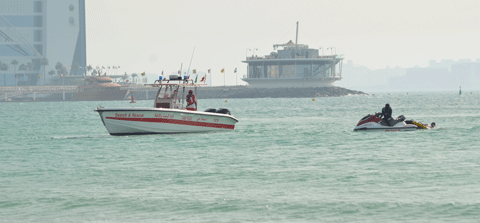 Of all the incidents Lt. Col. Ahmed Burqibah, Deputy Director of Dubai Police's Search and Rescue Department, remembers in his tenure, this one registers as the most remarkable, he tells Emirates 24|7.

Recalling the incident, which took place some time ago on one of Dubai's beaches, Lt. Col. Burqibah tells how seven men were rescued from drowning in one go.

"It was a public holiday and the drivers of three buses from one of the construction companies took the workers to the beach for a swim.
"The drivers did not take them to designated swimming beaches. Instead, they took them to a beach in the Al Sofouh area, between houses."

He pointed out that everything was ok until workers began screaming for help.

"The driver called 999 for help, but he was unable to give his exact location.
"He was saying that they are between villas, but was unable to say where exactly.
"It was a difficult situation, but fortunately, we were able to reach the site on time and save all seven workers from death."

Lt. Col. Burqibah added that bus drivers and companies should be more aware of such cases and take their workers to swim only to designated beaches.

"Also they musts be aware of the red flag on the beaches which is a clear no swimming sign due to bad weather or rough sea conditions.
"We face this problem all the time, especially with Asians as they don't listen to the warning, and enter the sea when the red flags are up."

Lt. Col. Burqibah added that fortunately, cases of death from drowning have fallen down noticeably in the past few years due to many measures taken by Dubai Police and Dubai Municipality.

"We have increased the numbers of life guards.
"Currently, all the life guards in beaches inside the parks are under Dubai Municipality, while those on open beaches are under Dubai Police Search and Rescue Department."

He added that from the beginning of this year, they have had up to 58 drowning cases, of which, 20 happened at night.
Follow Emirates 24|7 on Google News.