Egypt frees Australian journalist after 400 days in jail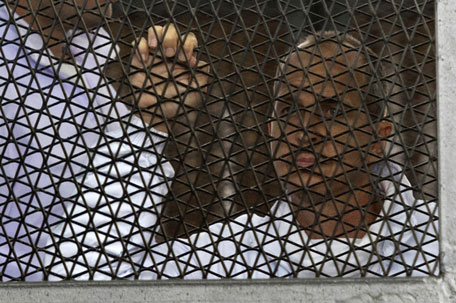 Egypt freed and deported Australian journalist Peter Greste Sunday after more than 400 days following a global outcry over his jailing on charges of backing the Muslim Brotherhood, but two colleagues remained in prison.

Greste, an award-winning correspondent for Al Jazeera English television, flew to Larnaca in Cyprus with brother Michael after his release from Cairo's Tora prison, interior ministry and airport officials told AFP.

His brother Andrew told reporters in Brisbane Peter's excitement was "restrained", adding "he won't give up" until his colleagues were also freed.

In Canberra, Prime Minister Tony Abbott spoke of his "personal delight and our nation's relief" at Greste's release, expressed his government's support for a free media and thanked Egypt's President Abdel Fattah Al Sisi.

Greste was detained with colleagues Canadian-Egyptian Mohamed Fahmy and Egyptian producer Baher Mohamed in December 2013 on charges of aiding the blacklisted Brotherhood.

The arrest of the three journalists sparked worldwide condemnation with Washington and the United Nations leading calls for their release.

Qatar-based Al-Jazeera welcomed Cairo's decision and expressed hope the other two journalists would soon be set free.

"We're pleased for Peter and his family that they are to be reunited," said Mostefa Souag, acting director general of Al Jazeera Media Network.

"We will not rest until Baher and Mohamed also regain their freedom."

Fahmy's relatives expect him to also be deported under a decree passed by Sisi that allows for the transfer of foreigners on trial, but it was not immediately clear when he would be released.

Immense relief

Greste's family expressed their joy after speaking to Peter on the phone and vowed his colleagues still behind bars would not be forgotten.

"I'm ecstatic," his mother Loris told a press conference in their hometown Brisbane.
"I just can't say how happy I am about it."

Greste was resting in Cyprus and the family said it was not clear when he would arrive in Australia.

"He is gathering his thoughts for the trip home," brother Andrew said. "He is safe, healthy, very, very happy to be on his way home."

"He's not going to forget his two other colleagues," Andrew added.

"There's no doubt that his excitement is tempered and restrained and will be until those guys are free, he won't give up until Baher and Mohamed Fahmy are out of there."

Andrew had earlier expressed relief on Twitter, thanking journalists and others who kept pressure on Egypt.

"Without the worldwide support we could not have got through it. @PeterGreste on his way home," he tweeted.

Canada said Greste's release was "positive" and that it remained "very hopeful" that Fahmy would also be freed soon.

The family of their Egyptian colleague Baher Mohamed has pinned their hopes on a presidential pardon or his acquittal on appeal.

Their high-profile trial, at which Greste and Fahmy were sentenced to seven years in prison and Mohamed to 10, proved a public relations nightmare for Sisi, who has cracked down on militants since toppling president Mohamed Morsi in July 2013.

The verdict was overturned and a court in January ordered a retrial for the three.

"There is a presidential decision to deport Peter Greste to Australia," an interior ministry official told AFP minutes before Greste flew out from Cairo.

Amnesty International said Greste's release should not overshadow the ongoing imprisonment of Fahmy and Mohamed.

"All three men are facing trumped up charges and were forced to endure a farcical trial marred by irregularities," said Amnesty's Hassiba Hadj Sahraoui.

The Committee to Protect Journalists, a media watchdog, welcomed the release and called on Sisi to pardon and free Fahmy and Mohamed "and the other journalists still behind bars for doing their work".

Spat with Qatar

Egyptian police arrested the journalists at the peak of a diplomatic row between Cairo and Qatar, which owns Al Jazeera.

The broadcaster had been critical of the deadly crackdown on Morsi's Muslim Brotherhood movement following the leader's overthrow.

Qatar has since moved to mend ties with Egypt, and Al Jazeera has closed its Arabic-language Egyptian affiliate which backed the Brotherhood.

The rapprochement reflected growing international acceptance of the crackdown on Egypt's opposition and militants who have killed scores of police and soldiers since Morsi's overthrow.

The crackdown, which has left at least 1,400 people dead, had tested Egypt's ties with the United States, which temporarily froze part of its annual $1.3 billion military aid in 2013.

Greste, who turned 49 in jail, worked for multiple news organisations including Reuters and the BBC before joining Al Jazeera English.

He was the BBC's Kabul correspondent in 1995 and returned there after the US-led invasion in 2001.

From 2009, he was based in Nairobi, winning the broadcasting industry's prestigious Peabody Award in 2011.
Follow Emirates 24|7 on Google News.