10am start for Dubai Metro on Fridays; Tram's Marina Loop terminated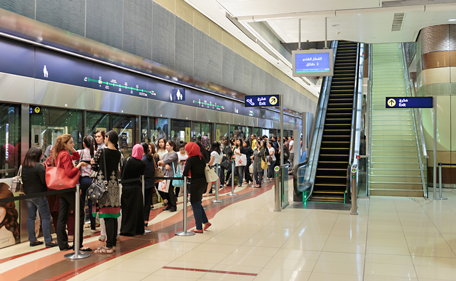 Dubai's Roads and Transport Authority (RTA) has announced changes to Dubai Metro's operational hours on Friday, with service starting at 10am (instead of 1pm) from October 2.

The RTA said that the move is in response to customer preference for an earlier start time of the service.

In addition, RTA also announced the ceasing of the Marina Loop service of the Dubai Tram, which currently offers semi-circular service at JBR, Marina.
This will slash the total transit time of the Tram from 54 minutes to 45 minutes, and help improve service frequency to 8 minutes, the RTA said.
"We have commissioned studies about the revised operational time of the metro service on Friday where we have perceived a necessity for starting the service as early as 10am, especially since the Metro links key areas in Dubai including a host of tourist, commercial and residential districts," said Abdullah Yousef Al Ali, CEO of RTA Rail Agency.

"Studies had also been conducted about the performance of the Dubai Tram with a view to sourcing the best suggestions for boosting riders' satisfaction.
"Therefore, we have opted to introduce some changes to the service format to meet expectations of riders highlighted by: Ceasing the Semi-Circular Marina Loop service of the Dubai Tram at JBR, Marina, which covers four stations: Jumeirah Beach Residence(1) , Jumeirah Beach Residence(2), JLT and Dubai Marina Mall.
"The study stated that abolishing this service would bring about a lot of positives such as slashing the total transit time from 54 minutes to 45 minutes, and improving the service frequency to 8 minutes," explained Al Ali.

"The number of riders using this Semi-Circular Tram Service (Marina Loop) is 6 per cent of total riders as revealed by statistics during the period from December 2014 to May 2015.
"Accordingly, Dubai Tram timetable has been revised resulting in shorter operational hours as the service will now terminate at 1am instead of 1.30am," said the CEO of RTA Rail Agency.
Follow Emirates 24|7 on Google News.