11,000 vehicles found unfit for Abu Dhabi roads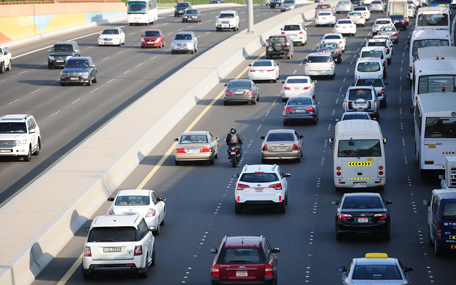 The Traffic and Patrols Directorate at the Abu Dhabi Police issued more than 11,000 traffic fines in three months in the first quarter of this year for vehicles technically unfit for use on the road.

The technical glitches include worn-out tires; gas emissions that exceed specified standards; and using broken indicators or lights, which may lead to traffic accidents resulting in deaths and serious injuries.

It should be noted that traffic law stipulates several sanctions for unfit commercial vehicles, including driving a vehicle that causes pollution which is punishable with a fine of Dh500; vehicle unfit for driving punishable by a fine of Dh200, in addition to vehicle confiscation for seven days; driving with tires in poor condition punishable by a fine of Dh200 and vehicle confiscation for seven days; broken lights punishable by a fine of Dh200 and 6 black points; broken indicator lights, punishable by a fine of Dh100 and two black points; and driving a noisy vehicle, punishable by a fine of Dh500 and vehicle confiscation for 30 days.

Colonel Mohammed Ahmed Saif Al Mazrouei, Chief of Peripheral Regions Traffic Section at the Traffic and Patrols Directorate of Abu Dhabi Police, pointed out that the traffic fines issued included 7,040 fines to vehicles with worn-out tires; 2,544 fines to vehicles with no brake lights; 1,375 fines to vehicles with broken or unfit indicators or lights; 147 fines to vehicles with gas emissions exceeding specified standards; and 179 fines to vehicles with no lights on the back or sides of trailer container.

He urged drivers to ensure the validity and good condition of their vehicles' tires, inspect the rear and side view mirrors, the four directional signals and the brakes efficiency; check the vehicle's oil level and quality; as well as the air conditioning system and the cooling system (water level, hoses and radiator cap).

As a part of the awareness programmes organised within the Arab Traffic Week 2015 activities held under the slogan 'Start with Yourself; be Committed', the Chief of Peripheral Regions Traffic Section advised drivers to park their vehicle on the right side of the road and activate warning signals to warn vehicles coming from behind in case of emergencies.

"In case of engine overheating, drivers must wait until they are certain that the engine is cool before opening the radiator cap and filling it with water; they need to make sure they close the engine cover, restart the engine and then head to the nearest vehicle repair shop," said Colonel Al Mazrouei.

Colonel Al Mazrouei encouraged drivers to provide basic safety items in the vehicle, including a spare tire, a tool kit, a first aid kit, a fire extinguisher, flares or a reflective triangle, a mobile device battery charger, an electric tire inflator and a flashlight.
He also urged them to check the validity and good condition of safety items such as tires, mirrors, lights, brakes, seat belts, head restraints, child safety seats, and airbags.
Follow Emirates 24|7 on Google News.