Black Knight Decoded: Cars dance in UAE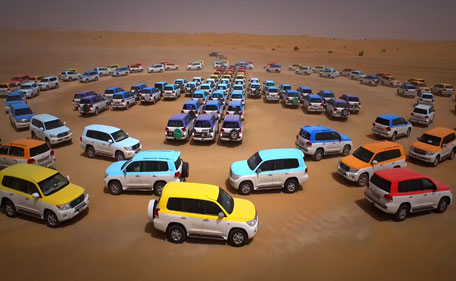 In the newest chapter of the Pepsi Challenge, Pepsi has released Black Knight Decoded, an epic short film by Pepsi in collaboration with Levity Entertainment Group (LEG) and UrtheCast, the ultra High-Definition video system located aboard the International Space Station, incorporating the world's largest synchronised car dance, shot in the UAE desert from space.


The short film, which fuses scenes shot from space from 11 countries around the world, includes footage of 121 cars dancing in the UAE's desert before forming a peace sign, which measures over 80 meters in diameter. The activation, which broke the Guinness World Record for the largest synchronized car dance in the world, was overseen by the renowned UK-based graffiti artist, INSA.

Hossam Dabbous, Vice President, Beverages Category, PepsiCo, Middle East and Africa said, "The Pepsi Challenge is designed to inspire and unite people across the world, and we are delighted to include footage of our UAE dancing cars scene in Black Knight Decoded, the culmination of our campaign. Working with visionary creators and cutting-edge technology, we not only set a new Guinness World Record but also created an iconic global customer experience featuring one of our most exciting markets."


Dubai's epic contribution to the short film shot from space, was created and produced by iconic brand Pepsi®. Using 2x RED EPIC Dragon, 1x DJI INSPIRE Drone, 7 Go Pros, and UrtheCast, the filming crew included more than 25 professional and passionate videographers.

Set to an original track, 'Miracles', from Usher, the action-packed adventure film has a star-studded cast and a host of creative talent including Golden Globe nominee David Oyelowo, SAG Award winner Freida Pinto, Emmy Award winning director Jabbar Raisani, bestselling author James Frey.

Black Knight Decoded tells a powerful story about a father (Oyelowo), his daughter (Layla Crawford) and co-conspirator (Pinto) on their quest to decode radio signals transmitted from the Black Knight satellite where they rely on support from communities around the world to come together to communicate universal messages of hope, unity and peace.

housands of consumers across Australia, China, the Czech Republic, India, Mexico, Poland, Romania, Russia, United Arab Emirates, the United States and Vietnam were challenged to create larger than life installations that were filmed from cameras on the ground and from UrtheCast's cameras aboard the International Space Station and feature prominently in the film.

Follow Emirates 24|7 on Google News.