25% of Arabs 'never' or 'hardly' read books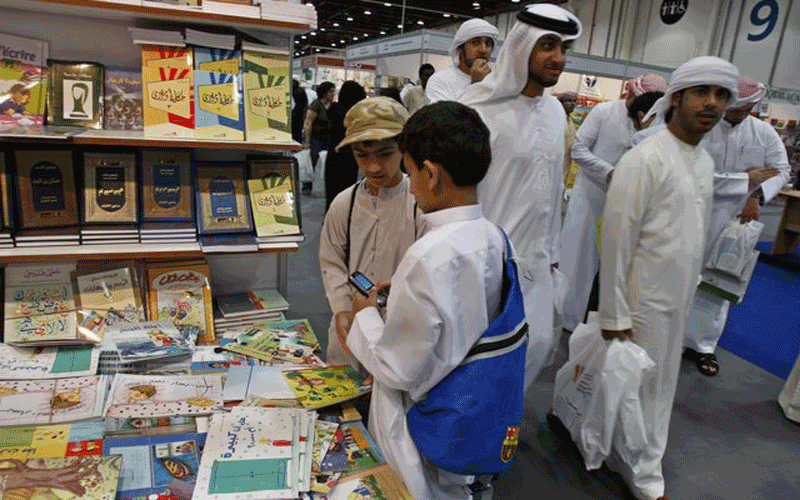 A quarter of people in the Arab world hardly ever or never read books for personal enjoyment, a survey by Yahoo Maktoob Research has found.

People in Jordan, Lebanon and Algeria read the least, with more than 30 per cent of respondents in these countries stating that they hardly ever or never read, according to the survey, done to coincide with World Book Day on March 3.
Youth read the least with almost 30 per cent of those under 25 years old hardly ever or never reading. The survey found 19 per cent of people read regularly, with those in Bahrain, Egypt and Morocco the biggest booklovers (24 per cent), followed by those in Iraq and the United Arab Emirates (22 per cent).
Those aged 46-50 are the most frequent readers (27 per cent), followed by those aged 36-45 (25 per cent).
Historical fiction is the most popular genre of literature in the Arab world with 14 per cent of the overall vote, followed by political with 12 per cent. However, romance is the clear favourite among women with 21 per cent of the vote.
From country to country certain genres stand out as being more popular than others. In Bahrain and Qatar crime/detective books are particularly popular, while in Algeria and Egypt action/adventure is a big draw.
In Saudi Arabia romance is the most popular genre of all.
There are also clear differences in reading preferences between different age groups, with those aged 15-17 opting for thriller/suspense and crime/detective books and those aged 46-50 overwhelmingly favouring historical fiction.
The survey polled 3,503 people in Algeria, Bahrain, Egypt, Iraq, Jordan, Kuwait, Lebanon, Libya, Morocco, Oman, Palestine, Qatar, Saudi Arabia, the United Arab Emirates and Yemen.
Below are the top 10 genres ranked in order of popularity:
1. Historical fiction (14%)
2. Political (12%)
3. Romance (9%)
4. Poetry (7%)
5. Crime/detective (6%)
7. Action/adventure (6%)
8. Thriller/suspense (5%)
8. Science fiction (5%)
10. Autobiography (4%)
10. Mystery (4%)

Naguib Mahfouz favoured amongst Arab readers Amongst those who do read, Nobel Prize winner Naguib Mahfouz emerged as the most popular writer in the Arab world. The Egyptian novelist, scriptwriter and playwright came out as the clear favourite among readers in the region.
Mahfouz, who passed away in 2006 at the age of 94, published more than 50 novels, over 350 short stories, dozens of movie scripts, and five plays over a 70-year career. Two of his most famous novels are "Tharthara Fawq al-Nīl" (Chatter on the Nile) and "Awlaadu Haaratena" (Children of our Alley). Mahfouz, who won the Nobel Prize for Literature in 1988, garnered 28 per cent of the vote in the survey, while another Egyptian writer, Mohamed Hassanein Heikal, came in second place and Algerian female writer Ahlam Mosteghanemi was third.
Below are the top 10 writers ranked in order of popularity:
1. Naguib Mahfouz (Egyptian)
2. Mohamed Hassanein Heikal (Egyptian)
3. Ahlam Mosteghanemi (Algerian)
4. Tayeb Salih (Sudanese)
5. Edward Said (Palestinian-American)
6. Alaa El Aswany (Egyptian)
7. Nawal Sa'adawi (Egyptian)
8. Abdul Rahman Munif (Saudi Arabia)
9. Youssef Zidan (Egyptian)
10. Amin Maalouf (Lebanese)
Follow Emirates 24|7 on Google News.