4 fall into manhole, suffocate to death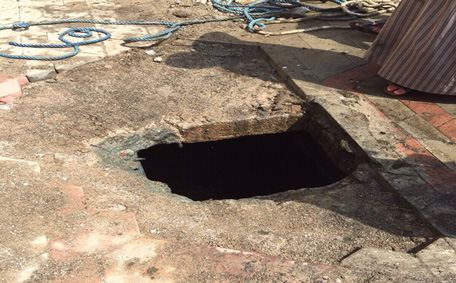 A 55-year-old Emirati, two of his sons and a son-in-law died yesterday morning after falling into a sewage manhole in the courtyard of their house in Dibba, Fujairah.

Brigadier Mohammed Ahmed bin Ghanim Al Ka'abi, Commander-in-Chief, Fujairah Police, said the accident took place at 10am.


The father, identified as SAR fell into the manhole first.

His two sons, both in their 20s, and identified as ASA and ASA and their brother-in-law in his 30s, identified as MSM, rushed to help and tried to rescue him, but unfortunately, they themselves got trapped in the manhole.

Brigadier Al Ka'abi said the four suffocated in the manhole, which resulted in their deaths.


Civil Defence succeeded in digging out the bodies and their were transferred to Dibba General Hospital.

Brigadier Al-Ka'abi confirmed that the police have begun their investigations into the accident.

He also said a Civil Defence staffer got slightly injured during the operation.

Follow Emirates 24|7 on Google News.