60,000 in Dubai save 14.7m gallons of water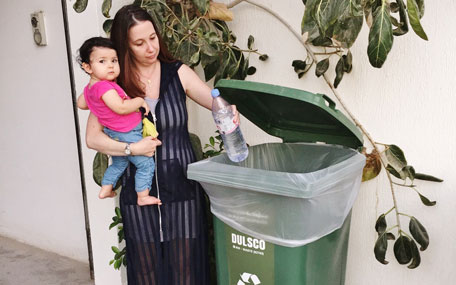 In a year more than 60,000 UAE residents recycle waste equivalent to saving 14.7 million gallons of water.

This was announced by Dulsco, a regional pioneer in waste management solutions and human resource solutions, while celebrating the first year anniversary of Dubai Municipality's 'My City My Environment' campaign.

"Dulsco was chosen by Dubai Municipality to handle two areas of Dubai comprising 7,000 villas in Jumeirah 1, 2, 3 and Safa 1 and 2. They were given 240-litre, colour-coded trash bins - green for recyclables and black for general waste," said S. Madhumohan, Director, Waste Management Services, Dulsco.

"As part of the campaign we did various activities including awareness programmes for maids, distribution of communication campaign materials, door-to-door visits by Dulsco team and Green Hope volunteers, surprise gifts for active recyclers and beach clean-up campaigns among other initiatives," he added.

"Our family has always been environmentally conscious. We actively recycle and spread the word among our friends and neighbours. This project has helped us as it has brought the convenience of recycling to our doorstep. We used to be worried about what actually happens to our recyclables – but the Dulsco team showed us a video of the materials being recovered and sorted. This gave us an assurance that our recycling efforts are not going wasted," said Alison and Robin, residents of Jumeirah 1.

The increasing population of UAE and development of several residential and commercial clusters also adds a lot of pressure on waste management and thereby puts a lot of pressure on the landfill if it is not managed properly. UAE currently has one of the highest carbon footprints in the world but Dulsco believes that if everyone participates, then a zero-waste society is possible.

The residents have been urged to actively participate and play an important role in eradicating and proper management of waste through the 3Rs: 'Reduce, Reuse and Recycle'.

The campaign aims to educate UAE residents about the importance and practices of proper waste management and source segregation.
Follow Emirates 24|7 on Google News.