64,000 fines for wrong pedestrian crossings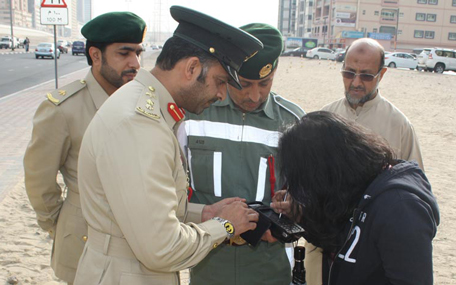 Dubai police issued nearly 64,261 fines against pedestrians making wrong crossing on the emirate's roads in the first quarter of this year and some of them committed the offence in front of the cops.

A YouTube film published by the Dubai-based 'Emarat Al Youm' Arabic language daily showed many people risking their lives as they crossed over the other side in areas not designated for pedestrians.

"Despite repeated police warning, many pedestrians insist on violating the rules.

"The problem is that some of them were caught making the offence before the eyes of policemen," the paper said, quoting Dubai's Traffic Police Director Colonel Saif Al Mazroui.
5 dead, 94 hurt
Five people died and 94 sustained mild to severe injuries in 86 run-over accidents in Dubai in the first quarter of this year, according to official traffic figures.

Col. Saif Al Mazrouei, Director of Dubai Police's General Department of Traffic, noted that 12 people died and 102 suffered mild to severe injuries in 98 run-over accidents during the same period last year.

Col. Al Mazrouei said police booked 64,261 pedestrians for jaywalking last year, while 17,326 had been stopped for crossing from undesignated areas during the first quarter this year.

''Some road users are not aware of the danger of crossing roads2 from undesignated areas, and most run-over accidents cause death or a permanent physical disability," he said.

Dubai Police, he stressed, would continue awareness campaigns, give lectures and distribute brochures to road users to end such accidents and reduce the number of fatalities.

Follow Emirates 24|7 on Google News.