9 out of 10 medical tourists to UAE are females; Liposuction tops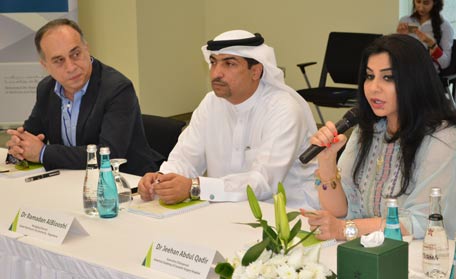 Liposuction tops the top five cosmetic surgery procedures for medical tourists in the UAE last year.
It totalled at 59 per cent, followed by abdominoplasty at 14 per cent, breast surgery at 13 per cent, cosmetic gynaecology at eight per cent, and nose surgery at six per cent.
These stats were revealed by Dr Jeehan Abdul Qadir, Executive Chairperson, American Academy of Cosmetic Surgery Hospital, Dubai Healthcare City (DHCC) at a roundtable discussion on 'Aesthetics: Trends and Concerns' on Monday.
Over the last three years, around 3,600 patients underwent weight-loss surgery procedure in Dubai, informed Dr Gabi Wazz, Specialist Obesity Surgeon, Dr Sulaiman Al Habib Medical Center, DHCC.
Patients from the UAE formed a huge majority while GCC and Africa together accounted for less than a quarter.
"It is estimated that 90 per cent of these patients will qualify for one or more procedure of body contouring."
Dr Jeehan added that 87 per cent of the medical tourists heading to the UAE were females.
Among the top five non-invasive aesthetic procedures, Botox topped at 47 per cent, while fillers stood second with 27 per cent, and platelet rich plasma at third with 17 per cent. Non-invasive body contouring totalled at 6 per cent, while laser treatment for skin rejuvenation at 3 per cent.
These treatments take a day or two, while surgical procedures take 5-7 days for medical tourists.
Talking to Emirates 24|7, Dr Ramadan Ibrahim AlBlooshi, Managing Director, DHCC Authority – Regulatory, claimed that one of the challenges in aesthetics is to ensure the procedures are safe, and to "manage expectation of the patients".
He added that most of the patients opt for aesthetics surgery out of their own will, mainly to enhance how they look, so it's important that the surgeons prep them on what to expect.
Dr Ramadan informed that UAE, like the rest of the world, does not exert any age limit for cosmetic surgery.
"We have seen people in their early 20s come in for surgery. Probably because they want to look a certain way, or they have some problem at home, or they have money to spend. It's tough to understand why they come in for these surgeries."
Talking about ethics, he outlined that it is important that the doctors approve surgeries based on patient's health, age-limit, and their own expertise, and not look only at the monetary gains.
He added that DHCC ensures each procedure is thoroughly researched and reviewed before put into play.
He highlighted policies that guide the patients and doctors.
"One of our most recent regulations was concerning Platelet-rich plasma (PRP) injections. This is used for cosmetic treatment, for face, hair, and is globally accepted."
It's used for improving tissue regeneration, and is derived from a patient's own blood.
Follow Emirates 24|7 on Google News.