ADFCA launches 9th Vaccination Campaign against Animal Diseases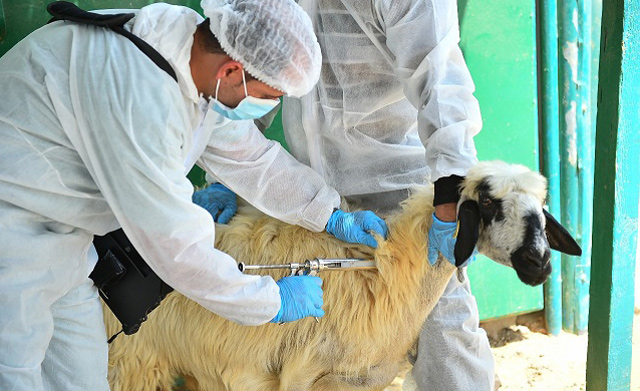 The Abu Dhabi Food Control Authority, ADFCA, on Sunday launched the 9th vaccination campaign against diseases which affect animals for the year 2017-2018, as part of its protective campaigns offered to livestock breeders in Abu Dhabi, Al Ain and Al Dhafra.
Thamer Al Qasimi, Official Spokesperson of ADFCA, said that this campaign has four stages. The first stage is to administer the first vaccination dose to sheep and goats against Peste des petits ruminants, PPR. In the second stage, vaccinations will be given to cows, sheep and goats against foot-and-mouth disease, as well as against crystalline inflammation in goats. The third stage will see the second dose of vaccination being given against PPR, while the fourth stage includes the second dose of vaccination against foot-and-mouth disease.
This campaign precedes the season that witnesses the appearance and spread of the most common and dangerous diseases among animals. The goal is to protect animals from contracting diseases by decreasing the outbreak of infections, increasing the immunity of animals, reducing the need to use veterinary medicines, eradicate the diseases in the long term, maintain animal resources, and increase the economic return of livestock breeders.
Al Qasimi mentioned that the vaccination campaign has contributed significantly in eradicating smallpox, since its launch. It has also helped decrease seasonal diseases that can infect animals and limited their spread. Some 5 million doses have been given to animals against different diseases since the beginning of the campaign in 2009.
He further called on livestock breeders to co-operate with the veterinary manpower of the ADFCA by arranging for the necessary workers, preparing the animals for the process of vaccination, and numbering before the veterinary doctor's visit to the farm, which decreases the exhaustion of animals and helps officials to offer the best services.
The campaign, which continues until the end of May 2018, will vaccinate over 3 million cattle against aphthous fever, crystalline inflammation and PPR, in line with the national plan for animal health 2015-2025 and ADFCA's strategic plan 2016-2020.
Follow Emirates 24|7 on Google News.