Air ambulance saves 8 injured people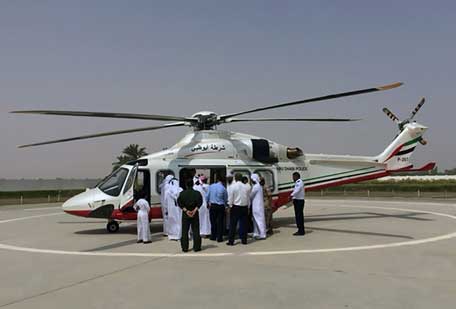 Air ambulance from the Air Wing Department at Abu Dhabi Police recently saved the lives of eight people by facilitating immediate medical attention. The injured were air-lifted to Al Mafraq Hospital, after providing them with the necessary medical care.

In the first incident, air ambulance crew provided medical care to three young Emiratis aged between 14 and 17 years, who had sustained injuries in a traffic accident in Al Khatam area.

In another incident, an Indian was air-lifted after his vehicle overturned in Al Khazna area.

Similarly, a 17-year-old South African man who sustained injuries in a motorcycle accident in Suwaihan in Abu Dhabi was transported to hospital by the air ambulance crew.

In yet another accident two Asians, aged 32 and 30, who sustained injuries when their car overturned on the highway in Tarif, were saved in time.

So also, another Asian who sustained injuries in a run-over accident in Al Ruwais.

The Air Wing Department of the Abu Dhabi Police performs several specialized operations such as providing ambulance, search and rescue, aerial photography and roads surveillance services.

The department uses latest equipment and mechanisms in the field of rescue and first aid to implement its ambulance and rescue services to patients and injured individuals.
Follow Emirates 24|7 on Google News.