Archbishop of Canterbury hears of Dubai model of co-existence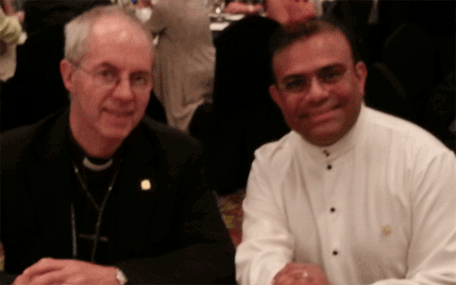 At the General Assembly of the World Council of Churches (WCC) in Busan, South Korea, the Reverend Dr Ruwan Palapathwala spoke about the promises the UAE holds to the world to His Grace, the Most Reverend Justin Welby, the Archbishop of Canterbury, the leader of 80 million Anglican Christians across the world.
Dr Palapathwala, the Senior Chaplain of the Chaplaincy of Dubai, Sharjah with the Northern Emirates, was in attendance at the Assembly, which took place between October 30 and November 8.
The WCC is the largest global ecumenical body, represented by 345 member churches, with a membership of over 600 million Christians all over the world.
Representing the Anglican Christians in the UAE and the Middle East at this Assembly, Dr Palapathwala said that he is also attending the Assembly as a voluntary goodwill ambassador to the UAE to share with the 5,000 participants the good news story of the presence of the Christian church in the UAE, and the privilege and freedom to worship the Christians have been granted by the gracious Rulers of the UAE.
Within the Anglican Chaplaincy of Dubai and Sharjah with the Northern Emirates, the Holy Trinity Church, in Dubai has achieved over 40 years of remarkable ministry in the United Arab Emirates.
A milestone achieved entirely due to the vision and graciousness of the late Ruler of Dubai Sheikh Rashid bin Saeed Al Maktoum, who generously granted and sanctioned over 18,000 square metres of land in Dubai for Christian worship. It was indeed a defining moment in the history of this nation that proved beyond doubt the broad-minded attitude and acceptance of its people towards the expatriate population's presence in the United Arab Emirates.
As a voluntary goodwill ambassador of the UAE, Dr Palapathwala said: "I was proud to share with His Grace Archbishop Justin Welby, the other church leaders and participants about Dubai being the strongest candidate to host World Expo 2020. "Along with the achievements Dubai has already demonstrated as a major centre for business, tourism, travel and religious harmony and coexistence of many cultures in the Middle East."
Dr Palapathwala added, "Dubai now also offers many promises and strategic opportunities for investments in education, healthcare, industry and business and for the nation to being shaped into a model 21st century global city of the world where Christians and peoples of other faiths can live in peace and harmony; and profound and respectful understanding of each other and the Muslim brothers and sisters."
Follow Emirates 24|7 on Google News.