Biggest New Year's party in the world? 1 million@Downtown Dubai to bring in 2013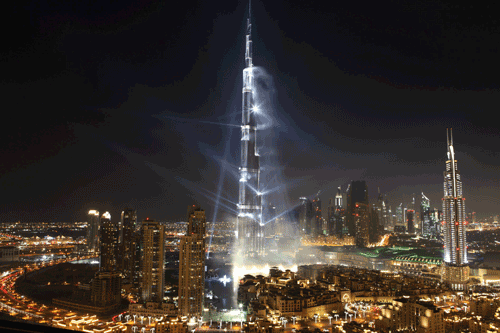 The world's most spectacular and unmatched extravaganza will be staged in Dubai to welcome 2013.

The Downtown Dubai New Year's Eve celebrations is expected to host more than a million visitors in a celebration that is unparalleled in scale, diversity and dazzle. The full-fledged production will stand out for its largest repertoire of events that will appeal to all visitors from around the world.

Hosted by Emaar Properties, the Downtown Dubai New Year's Eve Gala will flag off in the evening with a cultural showcase of choreographed music and dance performances.

Music aficionados are in for a special treat with a live performance by the Prague Philharmonic Orchestra, one of Europe's leading music ensembles. The world-renowned musicians will perform at Burj Steps, overlooking Burj Khalifa.

The Downtown Dubai New Year's Eve Gala will also be highlighted by the first of its kind show on the Burj Lake. The show will have three elements – light, water and fire – and projections on a 210 metre long screen, in addition to live telecast to over two billion viewers, and simultaneous streaming online at www.mydowntowndubai.com

The cultural showcase for the evening will be a true reflection of Dubai's cosmopolitan outlook while celebrating the richness of the Arabian heritage. Live dance and artistic performances marked for their visual richness, and a video montage that underlines UAE's multicultural diversity and iconic accomplishments will set the stage for the majestic finale – the dazzling fireworks atop Burj Khalifa, the world's tallest building.

Synced to live orchestral music, a feat never before attempted, the iconic fireworks display will envelope the tower in a rich wash of colours. Several new fireworks sequences will be created this year.

With the fireworks set to the symphony of live orchestral music, audiences on the ground can have a greater appreciation of the pyrotechnic spectacle before them.

Ahmad Al Matrooshi, Managing Director, Emaar Properties, said: "Every year when we plan the festivities for New Year we set ourselves an ambitious target – to make it the most watched spectacle on Earth. This year, we have the largest array of events – all scaled up in terms of creative excellence and artistic brilliance.

"Apart from the spectacular shows, the Downtown Dubai New Year's Eve Gala is also about celebrating the tremendous achievements of the UAE and Dubai, our people and our cultural diversity, in a befitting homage which salutes the success that Dubai has won as a global city.

"The spectacularly executed event will put the spotlight on Dubai underlining the city's credentials as the world's must-visit destination this New Year's Eve."

For further information regarding travel maps, logistics and timings, visit www.mydowntowndubai.com.

The Downtown Dubai New Year's Eve Gala is supported by Emirates, Etisalat, Samsung, Mercedes, and Omega.

Visitors to Downtown Dubai on December 31 are advised to take advantage of options for public transport. It is also recommended that visitors arrive by 8pm to secure a good viewing location. For more details on public transportation and hours of operation, please visit www.rta.ae.
MUST READ:
Follow Emirates 24|7 on Google News.