Buy a crater on planet Mars for just Dh18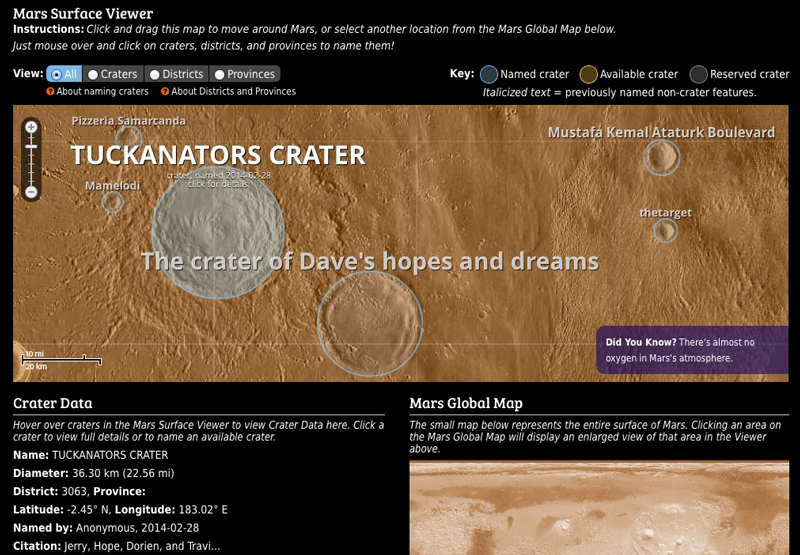 What's in a name, you ask? Quite a lot actually, especially when it's your own immortalised on a road map for planet Mars.

'Turn right from Acer Ali, followed by a kilometre trek to Renegade Rashid' could very well be the landmarks used by astronauts in future as the team behind the Mars One project partners with Uwingu to develop a detailed map of the Red Planet.

For as low as Dh18, you can have a crater on the Red Planet named after you, which will be immortalised and used in all their missions, starting with its first unmanned Mars landing in 2018.

Naming a larger crater can set you back as much as Dh10,000.

Some of the names that have already made its way to the map include 'The Crater of Dave's Hopes and Dreams', 'Bill and Norma's Retirement Home Away From Home' and 'Tuckernators Crater' with the citation, 'Jerry, Hope, Dorien and Travis Tucker 2014. The Tucker family wishes you well! Do I get the mineral and water rights in and under our crater?'

Uwingu, which describes its mission statement by creating 'new ways for people to personally connect with space exploration and astronomy', launched its Mars Crater Naming Project last week giving the public the opportunity to name approximately 500,000 scientifically identified craters on Mars by end-2014.

The goal of the project is to engage the audience in Mars exploration and generate a new funding stream for private space-related projects in the field of space exploration, research and education.

Bas Lansdorp, Mars One Co-Founder and CEO, said in a statement: "We're very enthusiastic about the partnership with Uwingu. Like Mars One, Uwingu gives everyone around the world the opportunity to participate in Mars exploration.

"The name you choose will go down in history, travelling to Mars on board our 2018 lander and will be used by our future astronauts. What an amazing opportunity!"

Everyone around the world can help name craters on Mars through Uwingu's website.

Mars One will carry a digital copy of the resulting Mars Map on board its 2018 unmanned Mars Lander and will use the Uwingu crater names as part of Mars One mission operations.

Uwingu founder and CEO Dr Alan Stern, a planetary scientist and the former head of Nasa's science programme, said: "Every person who names craters on Mars will now know that their crater names are planned to be used in the exploration and hoped for settlement of Mars.

"…We are very excited about actually flying our map to Mars in 2018."

The company states there is no approval process involved in the naming exercise, saying once you've completed the checkout process, your name is accepted, unless it's later found to be profane, pejorative, or otherwise offensive (in which case it'll be removed), it'll remain approved.

Also, if the name you choose already has found its way up on the map, Uwingu states a unique Province and District grid system on the face of Mars, like we have on Earth, can be repeated on the red planet just so long as its unique within the given area.

In future, the company also plans to allow the naming of mountains, hills and canyons on the planet.

All this will work is in conjunction with the Mars One project, which is a not-for-profit Dutch-based foundation that aims to establish a permanent human settlement on the red planet by 2025.

The mission plan consists of cargo missions and unmanned preparation of a habitable settlement, followed by human landings.

Currently, UAE national Khalid Al Jaaidi is one of the 1,058 selected from 200,000 hopefuls around the world, to vie for a new home at the first human settlement on planet Mars.

This pool will be narrowed down further by 2023, when one team will comprise the first humans ever to land on Mars and live there for the rest of their lives.

Incidentally, last month the Committee of the General Authority for Islamic Affairs and Endowments (Awqaf) issued a Fatwa against Mars travel.
Explaining its stance, the organisation stated priority is given to the safety of the human beings.

"In case a man travels to the Red Planet and is sure of not returning; and probability of death is likely, then it is not allowed to travel to Mars," it ruled.

The committee issued its fatwa on the religious principle of protecting human life.

It also stated the scientifically there is no confirmation of any life on Mars.

Follow Emirates 24|7 on Google News.