Car splits into two halves in collision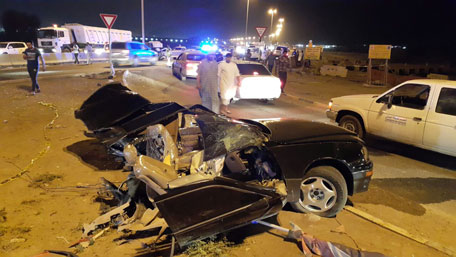 Three people were injured in a traffic accident in Ras Al Khaimah on Saturday evening, when two vehicles collided into each other, splitting one of the vehicles into two halves.

Colonel Ali Saeed Al Alkim, Director, Traffic Management, Ras Al Khaimah Police, no sooner than the operations room received information about the accident on Rams Street than an ambulance, patrols and rescue team rushed to the site.

One of the vehicles was driven by a 19-year-old Emirati and along with him was a 17-year-old Arab passenger. Both were transferred to hospital with serious injuries, Col. AlAkim said.

Driver of the other vehicle was a 34-year-old Asian who was also seriously injured and hospitalised.

Initial investigations revealed that the 19-year-old youngster lost control of the vehicle and rammed into a pole, veering into the opposite side of the road and colliding head-on with the other vehicle. In the impact, the youngster's car was split into two halves.

Police urged motorists to respect traffic rules and maintain speed limits.

Follow Emirates 24|7 on Google News.