DFM, National Bonds in staff deal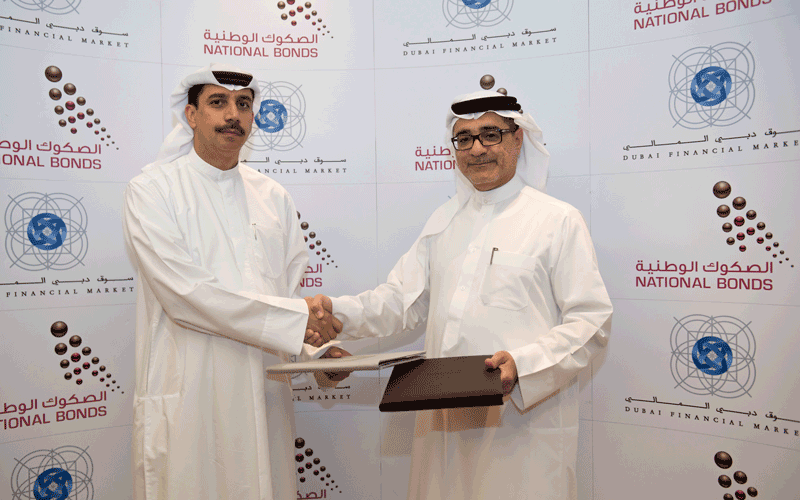 National Bonds Corporation and Dubai Financial Market (DFM have signed an agreement allowing DFM's staff the opportunity to benefit from the savings privileges offered by the National Bonds Employee Savings Scheme (ESS).
The voluntary initiative, a first-of-its-kind in the UAE, represents National Bonds' ongoing commitment of encouraging a savings culture and increasing awareness about the importance of planning ahead for a healthier financial future, National Bonds said in a statement on Saturday.
"This scheme allows participating organizations to help their employees and families secure a better financial future by providing them with a saving plan that is unique in offering competitive returns and the richest reward loyalty scheme in the region," the statement said.
"Moreover, the initiative aims to strengthen employee loyalty with the ultimate goal of improving staff retention. It is important to note that this initiative is aimed at all types of employers within the UAE."
It said the Scheme offers DFM employees the opportunity to save a portion of their salary each month through National Bonds, via a "seamless" process. Available to all existing and new staff that choose to participate, the programme does not affect employees' end-of-service benefits and entitles them to all the benefits offered by National Bonds, including weekly and monthly draws with thousands of prizes at stake including a Million Dirham grand prize, competitive annual profits, no fees and Life Takaful Coverage of up to Dh125,000 with no additional charges, according to the statement.
Commenting on the partnerships, Mohammed Qasim Al Ali, Chief Executive Officer, National Bonds Corporation said: "A considerable number of employees are unaware of the importance of saving for retirement at an early age or don't consider saving a priority when paychecks are stretched thin."
He said automatic enrollment provides the first step toward building a retirement income. "It's positive that the lingering effects of the post global financial crisis have prompted workers to closely examine their retirement saving and investment strategies for the future. At National Bonds we are committed to enable them to achieve their financial goals while keep providing innovative Sharia compliant financial products that meet their real needs."
Essa Kazim, Managing Director & CEO of Dubai Financial Market,, said: "We are proud to join hands yet again with National Bonds for this partnership, which will contribute to the financial well-being of our employees by giving them the opportunity to save for their future through this saving scheme.
"Joining National Bonds Employee Saving Scheme was a natural move as we share the very same values towards the financial health of our employees".
Follow Emirates 24|7 on Google News.