Dh1 billion Mohammed bin Rashid Library to be region's largest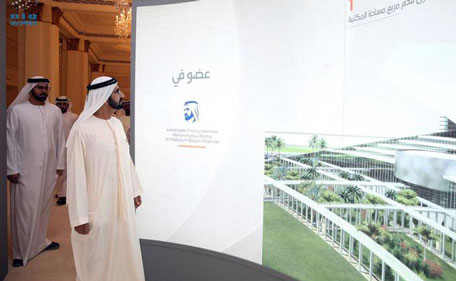 His Highness Sheikh Mohammed bin Rashid Al Maktoum, Vice-President and Prime Minister of the UAE and Ruler of Dubai yesterday launched, in presence of Sheikh Maktoum bin Mohammed bin Rashid Al Maktoum, Deputy Ruler of Dubai, a Dh1 billion project to build the largest library in the region.


The seven-storey, one million square feet Mohammed bin Rashid Library will be built in the Al Jaddaf area.

It is scheduled to open in 2017 and will house more than 4.5 million books and include several areas for interaction, events, activities, educational and cultural festivals.

The library will also host several cultural and cognitive initiatives, such as the Dh2.4 million 'Arabic Language Award', launched recently to help people embrace their Arab identity.

There will also be a museum of Arab heritage and the history of human civilisation as well as venues for arts and literary exhibitions, heritage preservation initiatives and a 500-seat theatre for lectures, seminars and launching of intellectual and cultural initiatives regionally and globally.

Present were Dr. Amal Abdullah Al Qubaisi, Speaker of Federal National Council (FNC), Sheikh Ahmed bin Saeed Al Maktoum, Chairman of Dubai Civil Aviation Authority and Chief Executive of Emirates Group, Sheikh Mansour bin Mohammed bin Rashid Al Maktoum, Sheikh Nahyan bin Mubarak Al Nahyan, Minister of Culture, Youth and Community Development, Mohammed bin Abdullah Al Gargawi, Minister for Cabinet Affairs, senior officials and members of the literary community.


"We are the leaders of civilisation, duty and culture, and so we need to revive the spirit of learning and curiosity within our culture through innovative initiatives that push our boundaries," said Sheikh Mohammed at the grand launch event.

"This is why we decided to start the Year of Reading by launching this state-of-the-art library and to let everyone know that we will transform the UAE into an Arab and global cultural and learning centre while strongly establishing reading as a societal norm.

"We want a dynamic library which will reach you before you reach it, visit you before you visit it, and which encourages you to start reading from childhood, while supporting you as a scientist, researcher or specialist, when older.
"The library will be a compound for books, a community for readers and writers, and an association for content, culture and thought owners," Sheikh Mohammed added.

The library will also serve as a platform for hosting and launching the most significant intellectual and cultural initiatives regionally and globally.

"The human mind is the centre of development and the book is the tool used to renew the mind.
"A nation can never grow without a renewed mind and a lively, knowledgeable spirit," Sheikh Mohammed noted.

The library is based on six pillars: the first is the main library, which includes eight specialised libraries: for Children, Youth, Family, Business, Arabic, International, Popular and Multimedia.

The second pillar is promoting reading; the library will pursue the Arab reading challenge project, launched earlier by Sheikh Mohammed, following the initiative of President His Highness Sheikh Khalifa bin Zayed Al Nahyan, announcing 2016 as the year of reading.
The challenge includes 2.6 million students from 20,000 schools within the Arab world. It will also host over 100 annual cultural events.

The third pillar will focus on spreading content via an e-library with over 2 million titles, and 1 million audio books.
The library will also print and distribute 10 million books in the next few years, which will be distributed to people in need.

The fourth pillar will focus on supporting authoring and translation, through its initiative, which aims to translate 15,000 titles into Arabic every year.

The fifth pillar focuses on protecting the Arabic language. This will be done by hosting the main headquarters of The International Council for the Arabic Language and publishing the Mohammad Bin Rashid Contemporary Arabic Language Dictionary.

The sixth pillar will include preserving cultural heritage by displaying rare publications, including a special section for the collection of Al Maktoum and an exhibition for Arab arts.
Follow Emirates 24|7 on Google News.