Dh2bn facelift for oldest Dubai mall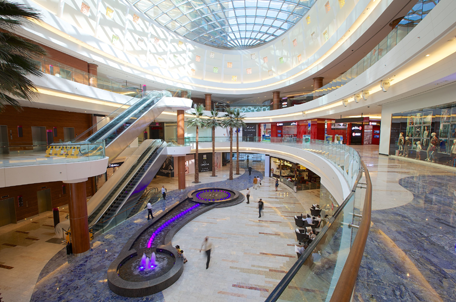 Al Ghurair Centre, Dubai's original shopping mall - and Middle East's first such, , will open its highly anticipated retail expansion today, a key part of its Dh2 billion overhaul.
Featuring over 130 new stores, the mall now offers more than 850,000 square feet of retail, food and beverage and entertainment across 350 outlets.
The expansion is certain to raise the competition for shoppers and tourists in Deira, offering a wide range of international retail concepts.
Key retail brands such as Marks & Spencer, Mango, Iconic, Omega, Cortefiel and Aeropostale are joined by newcomers to the market such as George, Crazy 8, Calzedonia and I Am.
David Thurling, Vice President Malls for Al Ghurair Properties, said: "The new retail offering appeals to a broad customer base being primarily mid- to upper-mid income consumers.
"Our goal was to create a spectacular yet comfortable shopping environment for our customers. The sense of space and light will provide them with a wonderful ambience in which to shop, dine and catch up with friends."
Central to the expansion opening is a complete re-packaging of the mall's branding.
"We feel our brand belongs to our community. Our mall, being an urban downtown property, has a unique place in this city," Thurling said.
"Al Ghurair Centre is as much an outward facing shopping destination as it is inward facing. Unlike almost every major mall in Dubai, we connect directly to the people who live in our community. Our external sidewalks and tree-lined streets are a part of the Al Ghurair Centre experience, just as the wonderful new interiors."
Al Ghurair Centre is planning to conduct a marketing strategy in which it will move away from the traditional seasonal promotions so common in other malls.
"We intend to create a very special district in and around our mall that will come alive throughout the entire year as a place for street theatre, art and music," said Thurling.
"In many ways, the centre will build on the inherent vibrancy of the surrounding streets to create a bustling experience similar to places like Greenwich Village in New York or Covent Garden in London.
"Over time we firmly believe that Al Ghurair Centre will become a centerpiece tourist attraction famous for its street festivals, public art pieces and ongoing community driven activities."
The new expansion also features an 18 outlet international food court, Sparky's a Family Entertainment Centre featuring an ice rink, indoor rollercoaster and other rides.
Two impressive atriums rising over the three levels of the mall provide customers with natural light and striking open spaces.
Unique to the mall are two indoor fountains that feature an array of choreographed effects, including a jet of water that shoots up almost 30 metres to the underside of the mall's glass atrium roof.
The Al Ghurair Centre will kick off the new opening with three months of international and local entertainment and activities.
This will include appearances by renowned Colombian urban circus troupe Circolombia, British magician James More, and from the USA, the Voca People, who will perform musical hits with just their voices.
In addition to this, visitors can enjoy all-day roaming street theatre performances appearing in eight different zones in and around the mall.
Follow Emirates 24|7 on Google News.