Dh30bn Meydan One: World's largest indoor ski slope ready before 2020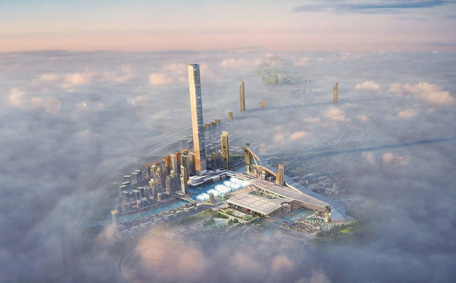 The total cost of building the mega Meydan One development in Dubai will range between Dh25 billion and Dh30 billion with the first phase, comprising Meydan One Mall, the world's largest indoor ski slope and the largest dancing fountain, is set for completion ahead of Expo 2020, a senior company executive told 'Emirates24|7'.

"We estimate the project to cost between Dh25bn and Dh30bn as we aim to deliver the first phase of the master plan by 2020," Mohammad Al Khayat, Vice-President - Commercial and Free Zone, Meydan Group, said.
"We are currently holding workshops after having got the approval for the first concept. We are focusing not only on the retail component, but also on various attractions such as dancing fountain, indoor ski slope, an indoor sports arena of almost 250,000 square feet, an entertainment zone and a water theme park, which will be is equivalent size to Wild Wadi."

According to Al Khayat, Meydan One Mall could be as "big" as either the Mall of the Emirates, or Dubai Mall. "If you see all the malls (Dubai Mall, Mall of the Emirates and Mirdif City Centre) are jam packed, as the number of residents in the emirate are increasing due to the excellent infrastructure here and the safety and security offered by the emirate."

Meydan One Mall is likely to have a gross floor area of 4 to 5 million square feet, driven by the growing demand from today's main anchor tenants.

"Besides, we estimate the footfalls to our mall will come from not just Meydan One (which will house 78,000 residents), but even from surrounding areas such as Meydan Avenue, Horizon, Sobha Hartland and the Burj Khalifa district."

Ski - all year long

Though Dubai already has an indoor ski slope, the world's longest indoor ski slope at 1.2 kilometres in Meydan One is being built to attract professional skiers and offer new attractions for snow lovers.


"Our feasibility study found that the 400 metre stretch allows only a certain category of skiers. With approximately 800m or more, we will have steep slopes to attract professional skiers."

At the base of the ski slope will be Meydan Arena, which will have a seating capacity of 8,000 and play host to sporting events, live concerts and theatrical shows.

Rising Dubai One

With the design of the 711-metre Dubai One, billed to be the world's tallest residential tower, currently under study, Al Khayat does not rule out the possibility of it rising higher.

"The '711' was based on the initial design and it could go even higher or lower, as it will be subject to Dubai Civil Aviation approval. The tower is currently in the design stage," he stated.


With Dubai expected to see population growth in the coming years, driven by the UAE's growing economy and rising job opportunities, the developer is taking precautions of ensuring that the infrastructure will meet the growing demand in future.

"We have completed the first traffic study and all our submissions are in collaboration with the Road and Transport Authority, Dubai Municipality and Dubai Electricity and Water Authority. We are ensuring that all the infrastructure and planning is completed before we start work on the project," Al Khayat asserted.
Apart from being connected to the Dubai Metro Gold Line, the project will be located mere four kilometres from the Etihad Rail station.

Completion in 10 years

Meydan estimates seven to 10 years for completion of the mega development.

"For a project of this scale, I would assume seven to 10 years. One should not forget that there will be different sub-developers working on their plots as well. We have committed to deliver the infrastructure in a certain period of time and they (sub-developers) have also agreed to complete their projects in a certain time," Al Khayat added.

The Power of One

Meydan One will set the following new world records.

# 711-metre Dubai One Tower will be the world's tallest residential tower;

# World's highest restaurant at 675 metres

# World's longest indoor ski slope at 1.2 kilometres

# World's largest indoor gymnasium at 25,000 square metres

# World's highest 360° observation deck at 655 metres

# World's largest dancing fountain at 420 metres in length

Follow Emirates 24|7 on Google News.