Dog can be impounded, Dh200 fine for not cleaning up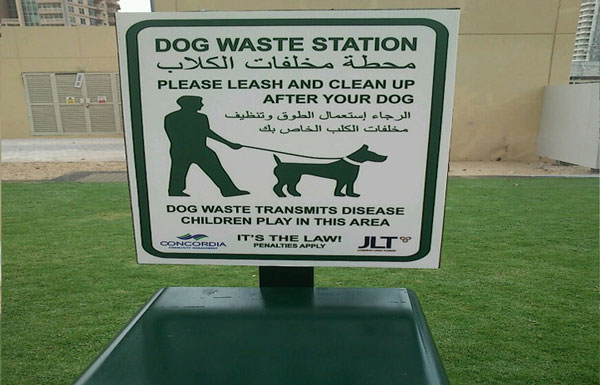 "If you walk your dog in the neighborhood, please clean up your dog's poop," requests Serena, a resident of Discovery Gardens, a master community in Dubai.

"It's so annoying to see dog poop lying on some of the streets or on the playgrounds," she says, adding, "I am not against people having pets in the community, but I only want them is not to leave the waste and walk off. Please do clean it."

"I have seen dog poop in the playgrounds… the owners walk their dog and don't clean up after their pet," says Rashi Kumar, another resident.

"I take my kids to the play area. My kids and others tend to play on the lawn and here is where we often see the dog waste. We have told our watchman about it and they say they have informed their superiors," she adds.


But not all dog owners are same. There are many who clean up to ensure the community stays clean.

"I always carry a plastic bag and clean up after my pet. There is no separate bin to dispose the waste in the area, hence I have to throw the bag in the bins on the streets," says Andrea, who has been staying in Discovery Gardens for the past four years.

"There is a lot of open space to take out your dog for a walk. I do see there are people who don't clean up, but these people need to be fined so they don't repeat the same mistake twice."

Asked about the regulations and fines against violators, Nakheel, the master developer of Discovery Gardens, says: "Violation of rules and regulations concerning pets is a challenge in most of the communities in Dubai.

"Rules and regulations regarding pets are set by the Dubai Municipality, which is responsible for enforcement and issuing fines for violation. Our role is to raise awareness by regularly communicating the rules and contacting residents who violate them."

Municipality rules

Dubai Municipality (DM) has set a number of rules and regulations for dog owners even though some master developers have set their own regulations.

As per the regulations on their DM website, failure to clean up and dispose dog's waste or leftovers in plastic bag when taking the dog out can result in a fine of Dh200 plus a written undertaking that the offence will not be repeated.

If caught again, the dog is impounded and the fine is of Dh400. If the owner fails to collect the dog and pay the fine within three working days, the DM regulation states the veterinary section will confiscate the dog, which means dogs will be sold to any interested party after being given any necessary medical treatment.

Jumeirah Lakes Towers

In Jumeirah Lakes Towers (JLT), Dubai Multi Commodities Centre (DMCC), the master-developer, has installed "dog waste stations" to ensure owners clean up after their pets.

The master community rules put the fine at Dh200 for failing to have a dog on a leash and Dh200 for failing to remove waste.

Jumeirah Beach Residence

Dubai Properties Group, the master developer of Jumeirah Beach Residence (JBR) master community, has a no-pet policy and on several occasion it has urged residents, who have sneaked pets to remove them from their apartments.

When violations are identified, these residents are sent warning notifications giving them a timeframe to remove their pets from the apartment, DPG has said, adding, in cases of repeated violations the matter is escalated to Dubai Municipality for further action.

Dubai Marina

The latest case of dog ban has been reported in Dubai Marina promenade. Emaar Properties, the master developer, put up notices in July this year, barring residents from brining dogs there. Residents are now trying to overturn the ban.

In terms of cleaning up dog waste, Emaar's master community rules for Downtown Dubai and Dubai Marina says any dog faeces deposited upon any portion of the master community shall be promptly removed and properly disposed of in a sanitary manner by the dog handler.

Dog handlers are deemed to include resident domestic employees that exercise the pet and non-compliance to these rules may result in notice of violation been issued to the defaulter, the community rules add.
Follow Emirates 24|7 on Google News.