Dubai cinemas can deny access to parents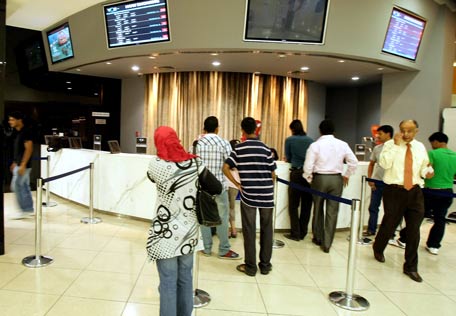 Parents who turn abusive and non-cooperative when their children are denied entry to movies because of age restrictions can also be barred from entering into the theatres by cinemas in Dubai, according to a senior official at the Dubai's Department of Economic Development (DED).

Ahmad Alzaabi, Senior Manager, Consumer Awareness, Commercial Compliance & Consumer Protection (CCCP) sector, at Department of Economic Development – Dubai, said: "One of the reasons we created the 'Cinema Admission Guidance' campaign is to strengthen the role of the cinema management in regulating and managing access to movies as per UAE laws and international standards. Besides, we believe it is in the best interests of parents and their children."

Replying to a query about what instructions Dubai cinemas have from DED's Consumer Protection Department to ensure compliance of the law against parents violating the age restriction criteria, Alzaabi said cinemas can allow or reject access based on the age criteria and restrictions which are stated on the printed materials distributed as part of the campaign.

He noted that there are other agencies as well that are authorised to regulate access to cinemas and punish offenders.

Nearly 60 per cent of the cinema screens in the UAE are in Dubai, says DED.

Adel Al Helou, Specialist in the Consumer Protection section of CCCP, said earlier that some parents turn abusive and non-co-operative when their children are denied entry to movies because of age restrictions.

Urging movie-goers to fully comply with the regulations, Al Helou warned that strict action would be taken against non-compliance or anything that obstructs normal business in Dubai and the UAE in general.

"The Commercial Compliance and Consumer Protection sector clearly defines the rights and responsibilities of every consumer, protects consumer rights, and works to create an ideal environment of transparency and impartiality in dealing with consumers. Our campaign in cinemas is aimed to stress the importance of consumer awareness and the need to follow guidelines in the interest of children and families," added Al Helou.

Mahmoud Bawab of Cinemacity, said movie ratings protect kids from unwanted influences and hence consumer awareness on such ratings are important.

"The campaign has helped customers decide which movies are suitable for their kids and also empowered cinemas to enforce the relevant rules, and request proof of age to avoid any conflict that might occur between us and our customers," Bawab said.

Below is Cinemacity definition of the ratings for age restriction:

G – Suitable for general audiences of all ages

A G-rated motion picture contains nothing in theme, language, nudity, sex, violence or other matters that, in the view of the Rating Board, would offend parents whose younger children view the motion picture.
The G rating is not a "certificate of approval", nor does it signify a "children's" motion picture. Some snippets of language may go beyond polite conversation but they are common everyday expressions. No stronger words are present in G-rated motion pictures.
Depictions of violence are minimal. No nudity, sex scenes or drug use are present in the motion picture.

PG – Parental Guidance Suggested. Some material may not be suitable for children

A PG-rated motion picture should be investigated by parents before they let their younger children attend. The PG rating indicates, in the view of the Rating Board, that parents may consider some material unsuitable for their children, and parents should make that decision.
The more mature themes in some PG-rated motion pictures may call for parental guidance. There may be some profanity and some depictions of violence or brief nudity.
But these elements are not deemed so intense as to require that parents be strongly cautioned beyond the suggestion of parental guidance. There is no drug use content in a PG-rated motion picture.

M – Recommended for a mature audience

The M rating is recommended for people with a mature perspective but is not deemed too strong for younger viewers. Language is moderate in impact, aggressive or strong coarse language will be used but should be infrequent, and sex may be moderately implied. Sexual violence must be limited. Drug use can be depicted in context.

R16 – Restricted to persons over 16 unless accompanied by a parent or guardian.

The "R16" rating is restricted to those 16 and over, meaning those under 16 cannot legally view the film.

TBC – To Be Classified

This film has not yet been classified.
Follow Emirates 24|7 on Google News.